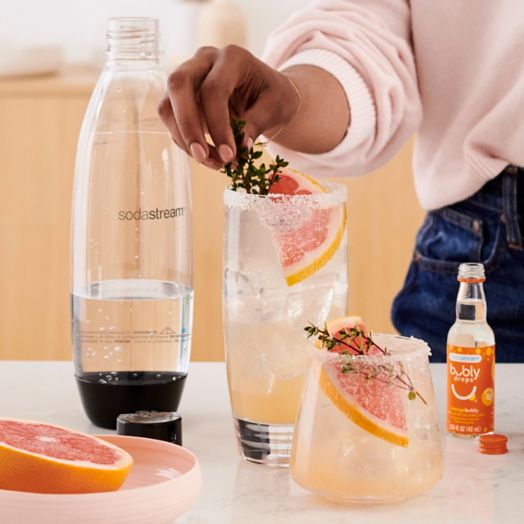 grapefruit and thyme salty dog spritz
either cocktail or mocktail, this refreshing drink will help you channel a warm day on the beach!
thyme simple syrup:
¼ cup sugar
¼ cup water
8 sprigs thyme
cocktail:
1 tablespoon coarse salt, for glass rims
¾ cup freshly squeezed pink grapefruit juice, from 1 grapefruit
½ cup vodka or gin, or, for a mocktail, extra grapefruit juice or sparkling water
1 ounce thyme simple syrup, recipe above
4 oz. sparkling water, divided
Fresh thyme and grapefruit wedges, for serving
instructions
1
For the thyme simple syrup: In a small saucepan, combine sugar and water. Stir over medium heat until the sugar is dissolved. Remove from heat; add thyme, and steep for 15 minutes.
2
Strain into an airtight container. Set aside until needed; the simple syrup can be refrigerated for up to one week.
3
Make the cocktail: Pour salt on a small saucer. Run grapefruit wedges around the outer rims of two glasses and roll the rims in the salt to coat. Set aside.
4
Combine the grapefruit juice, vodka, and thyme syrup in a shaker. Shake well.
5
Fill the salt-rimmed glasses with fresh ice and divide the drink between the two glasses. Top with sparkling water. Garnish with fresh thyme and grapefruit wedges. Serve.