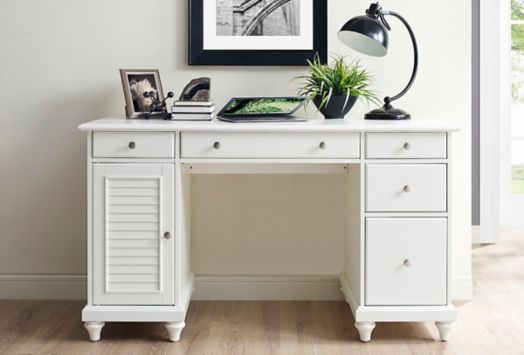 Help Desk: Organize Your Home for Back-to-School Season
Organization is the key to a successful school year. Here's how to do it right.
We all start every school year with the best of intentions: This is going to be the year we're up with the sun every morning; the year we prepare nutritious lunches and dinners for the whole family; the year everyone lays out their clothing and perfectly packed backpack the night before; and the year we have all of those things under control while still maintaining our sanity and a gym regimen. But life gets in the way, and we all have to settle for just doing our best, which is most definitely enough.
Getting organized before the school year, and being prepared for all of the things you'll need to tackle (homework, extracurriculars, snacktime) will help you feel more positive about the change in routine. Here are a few ways to ready your home for school-day success.
Keep your entryway from becoming a black hole of sports equipment, umbrellas, and rain gear by making sure everything has its place. Fill your space with storage options, and designate places for everything. Separate stuff by family member (each person gets a drawer, or a few drawers) or by type of item (all soccer gear goes in one spot). Or, come up with your own method. We'll show you the storage systems — you figure out how best to use them for your family's needs.
Pro tip: Be sure to pick storage with lots of drawers and baskets.
Hang as many hooks as you can fit. Between winter coats, raincoats, hoodies, and bags of all kinds, you'll need them!
Add a stand for your umbrella, and baskets for everything else. When it comes to storage, more is more! The more space you have to organize things, the less they'll end up on the floor (or worse, in the middle of the hallway, where you can trip on them).
While "at the kitchen table," "lying in bed," and "sitting in front of the television" are technically places where it's possible for homework to be completed, they aren't really the best spots for academic success. Designating a space in your home for kids to do their homework will help them stay focused. Position a desk (or table, or really any surface) away from distractions.
Stock the homework station with extra supplies (pens, scissors, staplers, tape, markers, etc.) and hang a corkboard, chalkboard, or calendar to help kids keep track of assignments.
If there's no space for a dedicated homework zone, keep all of your student's necessary supplies on a cart or in a basket. When it's time to do homework, move the supplies over to where they'll be working, and everything they need will be right there.
Growing kids are hungry. All the time. They'll need snacks when they come home from school, and older kids will likely prepare breakfast for themselves or pack their own lunches, at least some of the time. Set up your refrigerator with easily accessible grab-and-go snacks and meals, like chopped up carrot and celery sticks (throw a tub of hummus in there, too), string cheese, apples, and grapes. Keep fixings for sandwiches and salads in easily accessible containers. Or, make all lunches at the beginning of the week, and kids can grab and go when they leave for school
Designate a shelf or drawer for after-school snacks that don't go in the fridge. Keep pre-portioned chips, pretzels, nuts, dried fruit, or any pre-portioned snacks you like in different containers, and let the kids know where they are. When they get home, all they'll have to do is open them up and eat!
Before you shop for new clothes, clean out your kids' closets. They've probably grown since you went shopping last year, and decluttering will make room for new items, as well as help make the morning "What should I wear?" routine more efficient.
Go through each type of clothing, one at a time. Decide what your child can keep and what has to go. Keep track of what's needed, and make a list of everything you'll need to buy before you go shopping. If you have multiple kids, figure out your hand-me-downs situation. Have younger kids try on their older siblings' clothing, and see what works for this year, what might work for next year, and what won't work at all. Put the things that work now right into the closet, put things for next year in storage bins and space-saver bags, and donate the rest to an organization like Goodwill.
Last but not least, relax. You've got this. Here's to a great school year!