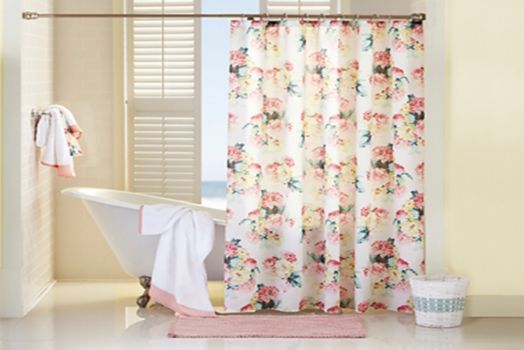 How to Build a Fresh, Functional Bathroom
Is your new home's bathroom dated and dreary? Or just boring and … blah? Sure, it does the job — all a bathroom truly needs is a working sink, a tub/shower and a toilet. But considering how much time you spend in the space, wouldn't it be nice if it were fun, fabulous and more functional?
"You use your bath every day, so make it a high priority," urges Amy Wolff, a Scottsdale, Arizona-based interior designer. From brightening the basics to adding five-star (but functional) touches, here's a three-step plan for a beautiful bathroom.
Stage 1: Build Out the Basics
Start by getting the room's essential elements in place.
If you didn't purge before the move, now's the time to clear the clutter. "Get rid of items you haven't used in the last six months," says Wolff.
A coat of paint will give the room a fresh backdrop. "Try a soothing aquatic blue, or, if your bath needs some verve, venture into warm saturated yellows and oranges," suggests Jeff Fiorito, owner of Fiorito Interior Design, in Northern California.
Now, go shopping. Swap out the shower curtain for a new one in a color, print or texture that fits the room's style while letting light into your shower stall. (Don't forget a rod, curtain hooks and a liner!) A coordinated bath ensemble with wastebasket, soap dispenser, toothbrush holder and tumbler will give the room a polished, put-together look.
Update towels and rugs — and know that they don't need to match. "Get the best quality you can afford," suggests Wolff. "For powder rooms, look for a little bling; guest towels with beading or embroidery add a fun, funky or elegant touch." Layer detailed towels over fluffy bath sheets, and buy plenty of spares for a spalike look. On the floor, lay down a plush terry rug in a solid color, or add visual interest with a small, patterned area rug.
Stage 2: Add Embellishments
Layer in a little something extra.
Tailor the bathroom to how you bathe! If your new stall's shower head sprays a sad, weak drizzle, update it; choose a soothing rain shower or a powerhouse shower head with a hand shower attachment. Is your shampoo collection a veritable beauty buffet? Install functional storage to keep bottles orderly. And if you love a toasty towel (or two!) when your bath's over, consider adding a super-luxe towel warmer.
Show off pretty perfume bottles and jewelry on a mirrored or marble tray. And invest in attractive storage boxes for not-so-attractive workhorses, such as your hair dryer, curling iron and pedicure equipment.
"Display pretty candles and soaps in lovely containers. It's easy, inexpensive and smells good," says Wolf.
And nobody ever said you can't hang art in the bathroom: Frame and hang prints or family photos.
Stage 3: Give It the Wow Factor
Load your bathroom with items that take it to the next level.
You don't need to tear the bathroom down to the studs to take it to the next level.
Everything will look better (including you!) with fresh, brighter lighting. "In addition to recessed LED ceiling lights, I like sconces on either side of the mirror, so light illuminates your face without shadows," Fiorito says.
"Have fun with the powder room — it's a great place to go a bit over the top. A chandelier or large pendant in the powder room really says 'wow!'" Wolff adds.
New hardware will update the room and help make a style statement. "Fabulous knobs and pulls are like jewelry for cabinets," Wolf says. While you've got the screwdriver out, swap out the faucet and showerhead; shiny, new fixtures breathe new life into the vanity and can make your shower stall a true escape.
Update windows with gorgeous top treatments or valances. "For a fuller, custom appearance, buy double what the package specifies," Wolf says. "And use attractive rods." If privacy's a concern, consider installing blinds or window film.
Finally, frame "builder stock" mirrors, or replace them with hung versions to make the space look customized. Dealing with a dated medicine cabinet? Swap it for a fresh, oversized version to maximize storage and bring the look into the 21st century.