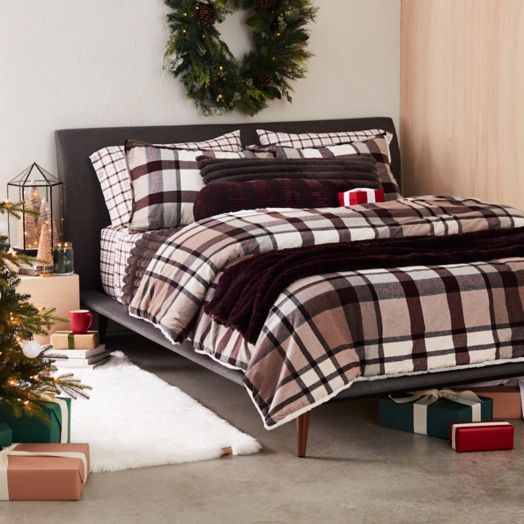 create a warm and welcoming space for holiday guests
15 thoughtful, easy, and affordable items to help your friends and family have the best visit ever
'Tis the season for houseguests, and now is the time to get ready for them. Just a few forward-thinking gestures will help them feel extra comfortable and welcome. From cozy sheets and towels to convenient luggage racks and charging pads, these items will put the happy in your guests' holiday.
The first glimpse of your guest room should inspire a sense of ahhh. For the holidays, a plaid flannel duvet cover feels cheerful and cozy. Blackout curtains are a thoughtful touch, allowing guests to control the amount of daylight they prefer. Lastly, it can feel a little awkward asking for essentials, so remember to place a small stack of fresh towels and washcloths on your guest bed.
Clean, fresh sheets are a must. Pima cotton is a great idea for your guest room—the fabric feels crisp and cool, and is a popular choice at fine hotels. You also can't go wrong with linen: it's light yet cozy and feels super soft. It's nice to offer your guest an extra layer for added warmth, so fold a lightweight blanket at the end of the bed.
Everyone sleeps differently, so your guests will be grateful for an assortment of pillows. A firmer style is ideal for back sleepers (try one that's temperature-controlled), but be sure to offer a soft pillow or two for side and stomach sleepers. A down-alternative style is best in case your guests are allergic to feathers.
create a comfortable climate
Allowing your guests to control their environment will make their stay extra comfortable. It's a nice idea to keep a fan and a space heater on hand.
---
pro tip:
Try a style with a remote control. Also, for sensitive sleepers, be sure to place a sound machine on a nearby shelf or in the corner of the room. We love a style that also works as a nightlight.
---
Before your guests arrive, be sure to give their space a test run. Is there a place they can put their luggage? A foldable luggage rack is such a smart idea. Make sure an electrical outlet is accessible, or better yet, place a charging pad on the nightstand. Lastly, be sure to clean out a portion of the closet for them, and offer plenty of empty hangers.
and… always-welcome holiday gift ideas
for the power shopper
A Welcome Rewards™+ membership is an excellent gift for anyone who likes to save. They'll get 20% off their entire purchase every time they shop and 5 points for every $1 spent—no exclusions. Oh, and free shipping on every order! All that (and lots more) for just $29.
for anyone and everyone
A Bed Bath & Beyond gift card is the perfect way to show your appreciation to everyone from your mail carrier to your babysitter to your most finicky friend. Keep a stack on hand at the holidays (and all year long), and you'll always have a gift ready.
for last-minute gifts!
Need something today? Buy online and pick up your order within one hour using Curbside or Store Pickup. Or, have it sent right to their door with Same Day Delivery for as little as $9.99.