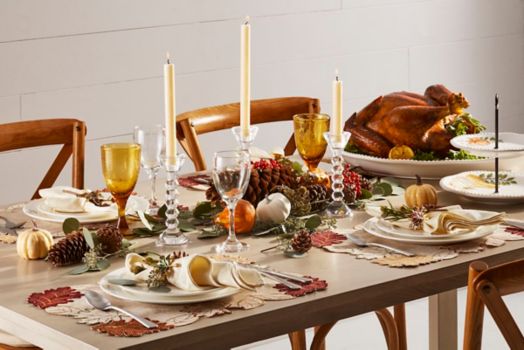 how to decorate your table for fall
7 fun ways to decorate your table for fall
Autumn is known for turning leaves, harvest times, and being the start of the extended holiday season. That means more meals and celebrations with family and friends. As much time as you spend thinking about what to serve during dinner parties and other fall events, don't neglect your table decorations. The right dinnerware, centerpieces, and placemats can really enhance a meal with pumpkin pie and other seasonal dishes. Check out some of the best ways to decorate your table for fall.
1. choose matching or mismatched dinnerware
Fall dinnerware comes in so many different designs that you should have no problem finding a few new pieces to add to your table. You may even decide to replace your old dishes with a new pattern. Mimic the same colors you see outside with dishes in shades of orange, green, and brown. If you want fall dinnerware you can use for special occasions and weeknight dinners, consider a basic set that uses just one or two colors. You might prefer a set that uses just one color, too.
2. add the right serving dishes
Don't forget to check out some of the popular serving dishes as you consider new
fall dining
items. You can take your table to the next level when you add serving dishes that work with the fall theme. For hearty soups that keep you warm as the temperature drops, grab a soup tureen shaped like a pumpkin that becomes the focal point of your whole table. Snagging a matching drink dispenser is just as easy. It adds a fun touch to the table and works with hot and cold drinks. You might also love a pitcher that matches your fall theme.
As much as you love entertaining, you probably don't like the damage guests do to your home and furniture. An easy way to keep your table safe from spills and other accidents is with a new tablecloth. Whether you have a round or square table, you can find the right cloth to cover it. Tablecloths also come in designs that are perfect for fall party table decorating. Consider a unique plaid pattern that uses some of your favorite autumn colors or a tablecloth that features a leafy pattern printed all over it.
4. go with matching placemats
While the right tablecloth protects your table from damage, it also creates a base that you can build upon with more decor. Placemats are just one of the optional accessories you can use. Many mats come in sets of four or six, but you also have the choice of buying individual mats based on how many people eat with you. You want to add one mat to each place setting. Go with cute designs that remind guests to be thankful or choose placemats that incorporate classic fall colors.
5. place a fall table runner
Whether it's for a holiday dinner or a regular dinner in the middle of the week, you will love adding a special touch with a fall table runner. Table runners are usually thin and long. It runs down the center of the table and hangs over each end. Using one lets you create a focal point and draw attention to all of the delicious dishes you made. Most fall table runners come in both 72-inch and 90-inch sizes that help you pick the right size for your table.


6. consider fall table décor
Welcome guests to your table with fall table décor that makes them want to take a seat. Go with classic pumpkins in fall colors like orange and brown. You can also add pumpkin decorations in unique colors such as white and silver. It's easy to use a fall garland, too. You can hang it around the table or wrap the garland around some of your dishes. If you decide to hang a fall wreath on your front door or other decorations around your home, look for matching accent pieces you can add to your table that mimic the décor and use some of the same colors.
7. finish with a fall centerpiece
No matter how many of these table decorating for fall ideas you use, make sure that you finish with one or more fall centerpieces. While you can create one from scratch, there are tons of options in the
fall shop
that are ready to go. You might prefer one that uses a candle in the center and fake leaves around the edges that looks like you spent hours foraging for leaves yourself. Other fall centerpieces allow you to add a touch of the winter holidays to your table with holly leaves and other accents.
Getting ready for fall and all of the entertaining you do is easy when you pick the right fall table décor. Any of these seven ideas will give your table the welcoming look you want for holiday and weeknight meals.