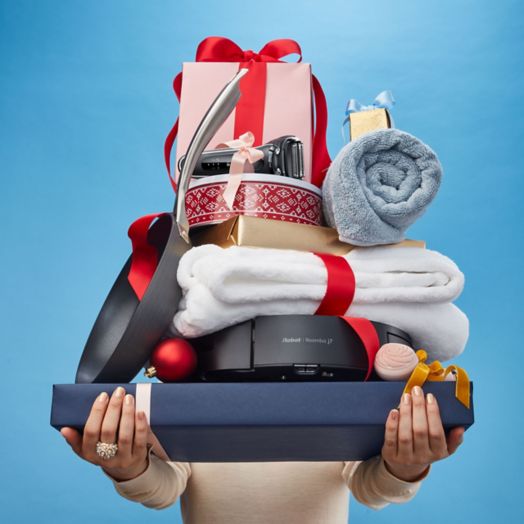 how to find gifts they'll all love!
30 holiday gift ideas for everyone on your list
Hark! Your one-stop shopping guide is here, with ingenious gifts for everybody, from home chefs and coffee lovers to beauty buffs and techies to kids and kids at heart. We've included the year's hottest gifts, a few amazing splurges, plus plenty of affordable stocking stuffers. Take advantage of our early deals now so you can sit back and enjoy the holiday season.
for home chefs of all levels
A new cookware set is a kitchen game changer for everyone from total pros to those just getting started, and this
11-piece, stainless steel one
has it all: Cool Grip stick handles, tempered glass lids, and it's safe in the oven and the dishwasher. Our
cast iron Dutch ovens
are available in multiple sizes (hint: a set of two makes an even better gift!) and an assortment of colors, which means they look stylish on the stove and in open shelving. And the
air fryer
just might just be the hottest gift of 2021. Not only does it cook all your favorite fried foods without oil (hello, healthy french fries!) but it also makes amazing pizza, burgers, and even s'mores!
for everyone who loves a cup of coffee or two (or three!)
Maybe they're an at-home barista or maybe they just enjoy a good cup of coffee, but whoever receives this
coffee and espresso machine
will love you forever. It brews delicious coffee and espresso in less than a minute and comes with a milk frother for perfect foam. Want a great stocking stuffer idea? Keurig® coffee pods! There are 44 in
this box
so you can gift all of them to a special someone or divvy up the pods between multiple stockings. And for purist who prefers their espresso made the classic way,
this machine
features an adjustable temperature and brew strength and heats up for use in just three seconds.
for that friend who always hosts the best dinner parties
A sparkling water maker is one of those if-you-know-you-know kind of gifts. This
one
turns tap into sparkling water in mere seconds—perfect for cocktails, mocktails, and daily hydration. A
wine preservation system
is a similarly wonderful invention. Its aerator attachment makes any wine more flavorful, while its Pivot System preserves wine, even weeks after you've opened it. A cheese board, meanwhile, is simply something that every adult should own—especially
a beautiful style in wood and marble
. It's a great gift idea for women and men alike, and is a hostess gift never to be regifted.
for those whose best day is a spa day
Give the gift of self care with these thoroughly thoughtful items. Pure luxury at an affordable price, this
facial steamer
encourages relaxation while purifying and moisturizing skin. If you'd rather treat the feet, this
foot spa
comes with massage jets, a foot roller, and a heat boost to keep water warm. Featuring a sea salt soak, exfoliating scrub, and massage balm, a
foot care gift set
pairs nicely with the spa, and is also a wonderful stocking stuffer or teacher's gift.
for anyone who wants a massage without leaving home
Deep tissue shiatsu, rolling massage, or pinpointed spot massage? The
HoMedics®Shiatsu Elite II
provides all three, in addition to soothing heat and a versatile design that fits most chairs. For feet and calves, HoMedics® has created a
massager
that deep kneads or rolls in three intensity levels—a dream come true for athletes or those who work on their feet. And this
weighted heating pad
is next level with up to four pounds of pressure and six different heat and massage settings.
for beauty buffs of all ages
Want to spoil someone with what might be the hottest gift of the year? The
Dyson Airwrap™
is the ultimate hair styling invention—softening and straightening with an aerodynamic effect that uses air, not extreme heat. If you'd like to spend a little less but still win big,
Conair's Cool Air Styler
comes with a curling iron, paddle brush, and round brush attachment. And this
innovation
is made for the multitasker. It features a voice-controlled magnifying mirror, four-level light, Bluetooth streaming system, speaker, and charging port.
for snugglers, cuddlers, and lovers of all things cozy
'Tis the season to stay toasty warm and these gifts will do the trick. This
luxurious throw blanket
provides enough room for two people, and its micro mink design is oh so plush. For some supreme coziness, try pairing it with a
faux fur pillowcase
! And if you're looking for a festive and cozy stocking stuffer idea, these
beautiful candles
are scented with holiday goodness: gingerbread cookies, candy cane, a woodland cabin, and more.
for those who dream of a robot housekeeper
If you'd like to make someone's life so much easier, give them the gift of Shark®. The cordless wonders are worthy of all the hype, and worth every penny. This
Wi-Fi connected robot
powerfully vacuums and mops all on its own for 90 minutes straight without bumping into a thing, while this
vac-mop version
is nearly as simple with a one-handle operation. And you can take the chore out of mopping with a
Steam Pocket Mop System
. From everyday quick cleanups to deep cleaning, it features Shark's famous Touch-Free and Steam Blaster technologies.
for techies and anyone who loves cool gadgets
Looking for a wow-worthy gift idea for a spouse? A teenager? Your bestie? The
Amazon Echo Show 5
is one of the year's hottest gifts. In one voice-controlled smart display, you can watch movies and shows, listen to music, talk and video chat with friends, manage your calendar, and so much more. Meanwhile, a
Google Nest Audio
is the ultimate sound system, learning your favorite music, streaming preferences, and commands over time. And have you ever heard of a
sunset lamp
? It's perfect for dark winter days, brightening up the room (and your mood) with a soothing orange glow.
for kids and kids at heart
Turn their bedroom into a planetarium with this amazing
laser projector
. It shines a universe of moving holographic stars in red, blue, and green, and connects with an app to cycle through different effects and brightness. A rock tumbler is a classic hit, transforming rocks into shiny gemstones. This
fun kit
also comes with fasteners to turn rock creations into jewelry. And for the budding artist,
Discovery Kids' LED easel
features a tablet display so kids can show off their work in a cool glow-in-the-dark format with five different light modes.