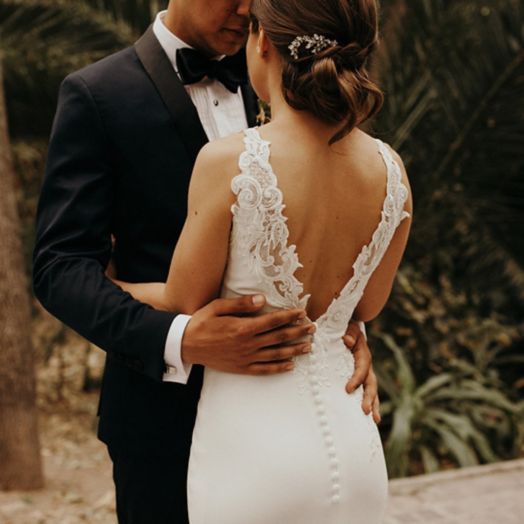 how to talk about your wedding budget
plan your wedding budget and stick to it, without too many fights
Money is always a tense topic of discussion, especially when it comes to big spends like your wedding. Wedding planning may be the first time you've had to make decisions about such a large amount of money together. Proceed with caution–and expert advice on the subject–so you don't stress each other out too much. There will be plenty of money-related conversations throughout your marriage and the wedding planning process, so let's make the first big one—your wedding budget—as painless as possible.
Here's a wedding budget breakdown to help you navigate your way from the money talk to the walk down the aisle.
1. pick your priorities to save money where you can
When you plan your wedding budget, it's important for you to have a conversation, first, with each other. Talk about what matters most to each of you in terms of wedding expenses. Have an understanding of where in the wedding budget you want to splurge vs. save. Perhaps having a dedicated wedding planner is important to one of you, and for the other it's imperative to have luxurious wedding invitations. If you agree that those two areas will be bigger line items, you can get scrappy with other elements. Or maybe, as a couple, you've decided that you'd rather save your money for the honeymoon or the new home and have agreed to make the wedding ceremony a more intimate affair or to use free wedding planning tools. Other factors to consider include where your wedding venue is located, how many people you'll have in your wedding party, the style and brands you choose for your wedding attire, the size of your wedding cake, if you want to splurge on the wedding rings… the list goes on and on! But big or small, there is a wedding budget that will work for you, as long as you know what you want.
---
pro tip:
don't forget to create a Bed Bath & Beyond Wedding Registry to begin preparing for your life as newlyweds.
---
Your wedding guest list is the main determining factor for settling on a budget. The bigger the guest count, the bigger the venue needs to be, not to mention the more robust the food and beverage offerings, and the more wedding invitations you'll need to send. Get clear on your guest list to figure out what type of venue and how many people to factor into the remaining wedding costs. Ask questions like, "how many guests do we think will make a meaningful wedding for us?" and "who can we not envision our wedding ceremony without?" Will you have a wedding party or save money there? Set up your list of invitees with Loverly's Guest List Tool (for free), and easily manage correspondence and track RSVPs in one place. Starting with your guest list for each of your wedding events will help tremendously when it comes to the rest of the wedding budget. Another factor to consider is how many people you want in your wedding party, as your bridal party and groomsmen may have plus-ones. Numbers like these affect the average wedding budget and total budget so make sure you take those people into account too!
Determine what you can contribute to the wedding budget yourselves. Has one of you been keeping a wedding savings account since you were in high school, just for this day you knew would come? (Not a terrible idea, when you realize what some wedding expenses can be!) Or can you both agree on contributing equal amounts to the wedding budget? Figure out what each of you is comfortable contributing, and maybe even figure out who will pay for what. Keep in mind what the average wedding costs are going into those conversations and if you have solid financial footing. Priorities come into play again here. Perhaps you are 100% sure you want a wedding planner and wedding bands and are willing to use your chunk of money to get both of those priority items. Or, you've decided your dream wedding dress, wedding cake, or wedding rings are non-negotiable for an amazing wedding. Tackle the wedding budget like a real team, and take on wedding costs you each feel strongly about. Don't forget, Loverly offers a sample wedding budget breakdown and a wedding budget checklist in their I Do Crew Masterclass which can provide you with the tools you need to save money and manage your total wedding budget which in our opinion, is a great wedding expense (only $249) that saves money and helps with financial planning.
When you've decided what's coming out of your own pockets, it's time to take the money conversation to your folks. If you're asking your parents to contribute to the wedding budget, come prepared with estimates of the specific wedding costs you're looking for help with. Having a rough wedding budget breakdown can make these conversations that much less painful. Know who you're asking for what, whether that be one set of parents or two, or perhaps a godparent or special relative benefactor. Keep in mind, sometimes planning a wedding forces you to have some serious conversations but when it comes to wedding budgets, it's necessary, especially if you want to save money.
No matter who you're asking, set aside dedicated time, without distractions, to sit down and discuss wedding budget–don't just spring it on them. Financial decisions are tough for most people. Try to be gracious no matter the response. Some parents decide on a lump sum they're willing to give towards the overall budget, while others may want to cover specific elements or events, like flowers, wedding favors, wedding photos, or the rehearsal dinner. It's helpful to go into these conversations with sample wedding budgets and wedding budget breakdowns so they understand what the average wedding costs. From there you can show ways to save money for your initial budget which will help represent how you and your future spouse plan to stay organized and on top of your costs.
The next part of the money talk is chatting about what level of involvement your parents expect to have in the wedding planning if they're contributing to its cost. Often with money come strings, so you want to be clear on where those strings connect, and politely draw boundaries where possible. You don't want a family member thinking they are your wedding planner simply because they helped buy the wedding dress.
Comparison is the thief of joy–especially when it comes to your wedding day! Easier said than done, but do your best not to compare your wedding budget to your friends' budgets. This can come up when you're asking for wedding vendor recommendations from friends. If they send you someone, say a wedding planner, who isn't in your range, simply move on and seek more fitting referrals. Your wedding day can be just as special as someone's whose wedding budget looks nothing like yours.
You are starting your lives together. You don't necessarily have to blow it all on the wedding day. You can save money and still achieve your ideal wedding. A smaller wedding budget can produce a ton of creativity and teamwork, and you can really have it all with small but mighty wedding moments. Take the time to figure out what feels best for the two of you and enjoy the rest of the planning process, investing in your lifelong love.
---
For a full wedding budget breakdown from wedding industry insiders, sign up for the Loverly I Do Crew Masterclass Series, which includes a Budget Course with budget templates, budget example breakouts at different price points, and ideas for managing your wedding budget throughout your wedding planning journey.
Special Offer for Bed Bath & Beyond Customers
Save 50% on Loverly's Masterclass video series to help you plan your wedding! Create a registry now to access this exclusive offer.