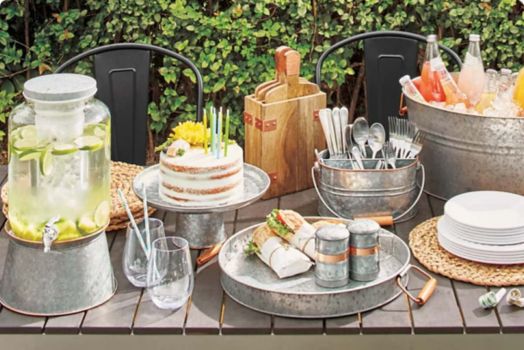 ideas for a backyard wedding
Make your wedding a beautiful, intimate affair with these ideas for a backyard wedding.
Having a backyard wedding is an easy way to keep costs down and create an intimate atmosphere for a unique event that you'll remember for the rest of your life. Most yards can accommodate 25 to 50 guests, so you'll need to keep your guest list fairly short. You can make it a casual celebration with some basic decorations or go all out with all the embellishments you want. We have everything you'll need to help you express your personal style on your big day.
select the right furniture
The right furniture for your celebration depends on how much you have to spend and the vibe you want to create. Folding chairs are an inexpensive option as are camping chairs. Hay bales are perfect for casual festivities. You can easily toss a few blankets over the top and add a few pillows to make your guests feel comfy. Just make sure that these accessories match your wedding colors. Don't forget about tables, especially for your cake and other food. With the right
home decor
, you can create a welcoming feel outdoors.
snag some carts and coolers
Summer is the best time to plan an outdoor wedding because the weather is so nice. As the temperature climbs, you want to make sure that your guests stay hydrated. Coolers are great for backyard weddings because you can fill them with ice and drinks without worrying about the ice melting before the night ends. Carts are just as handy because you can fill them with food and let guests help themselves when they're hungry. You can even use some carts to pass out cupcakes or napkins.
As you consider how to plan a backyard ceremony and reception and search for DIY backyard wedding ideas, you'll see it's often recommended to go with disposable drinkware. This can save you some money and help you stick to your budget. Disposable drinkware now comes in fun colors beyond the red plastic cups that you associate with frat parties. You can also look for drinkware that guests can take home as souvenirs. Think about funky Tiki-inspired cups or insulted mugs that keep drinks hot or cold. You can even turn these into wedding favors!
Even if you have a tight budget, you can still add some color to your ceremony and reception with table linens. Now is the time to ask your friends and family if you can borrow the old folding tables and card tables that they have. Once you toss a tablecloth over a folding table, no one can see its imperfections. You can go with classic colors that match the outfits of your wedding party or cute designs that add a fun touch to your outdoor venue.
When you need help planning an outdoor wedding on a budget, look for places where you can cut back, such as the food you serve. You might opt for simple appetizers instead of a full meal. If you plan on only serving appetizers and cake, plan your reception outside of mealtimes. You might have a reception around 2 p.m. or later at night. Some couples opt for brunch to keep costs down or host potluck receptions, inviting their family and friends to bring food to share. Make sure that you have the right plates, bowls, and utensils to serve the food. Wedding-appropriate
outdoor dining and entertaining
dinnerware and serveware come in both reusable and disposable designs.
One of the hardest parts of planning an outdoor wedding is finding the right decorations. You can't rely on just tablecloths and some pillows and blankets. Decorations for an outdoor wedding can include bridal bouquets and centerpieces made from artificial flowers. Though they look like real flowers, they never wilt and are suitable for framing later. Photo frames that you use to display some of your favorite pictures of you and your mate are another fun addition. You can even add frames to your
wedding registry
before your bridal shower.
think about custom options
To make your wedding stand out, look for ways that you can add custom touches to your backyard. Wedding signs come in dozens of designs and allow you to add your name, your spouse's name, and your wedding date. You might pick a large sign that lets guests know the location of the ceremony and another one that tells them where to park. You'll also find custom signs for your tables and vases that you can use for your centerpieces.
Planning a backyard wedding requires the right furniture and decorations to make your day even more special. Looking at backyard wedding ideas like those listed here is the best way to see what appeals to you and what will work in your space.