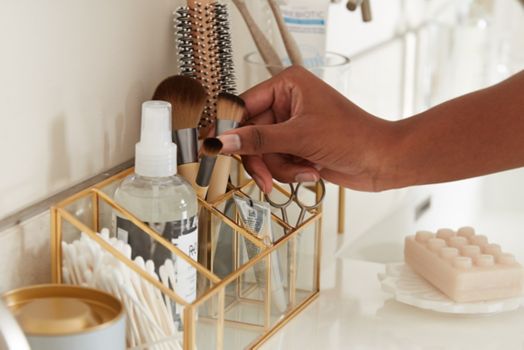 instant room refresh: the bathroom
banish bathroom clutter faster than you can take a bubble bath
Was there a scrunchie factory explosion or is it just your bathroom? If the john's looking junky, it's easy to tame it in no time (which is to say, about an hour, not counting the shopping). You'll get a huge payoff with little effort. Just follow these simple steps:
1. think like an editor and cut (13 minutes)
Start by throwing away anything stained or broken, like dingy old towels and cruddy wastebaskets that may not be wearing well. Have you looked at your toilet brush situation lately? Just saying...
Now cull your products. Discard shampoos, conditioners, lotions, and gels you haven't used in two months. Unlike fine wine, makeup doesn't improve with age, especially mascara and liquid eye shadows and liners, which are good for about three months. If you have foundations and lipsticks you haven't worn for months (years?), let them go too, along with any beauty products you've been holding onto for years. They're taking up space you could devote to something useful. Don't forget the medicine cabinet--toss expired prescriptions and other medicines.
Finally, edit your beauty gadgets and tools. If you haven't used them in a while, ditch them. Work fast. Be fierce. This is not the time to get sentimental.
2. call the caddy (4 minutes)
For those who don't have a shower caddy, It's time.
3. create space (22 minutes)
Maximize towel hanging space with an over-the-door rack, which requires no tools to install. Carve out even more real estate under the sink with modular drawers, racks, and shelves, some of which are stackable. Rolling carts are CCC: cute, convenient, and cargo-ready—great for neatly stashing tools and products. Ladder shelves and over-the-toilet storage units come together in minutes—often without the help of tools—and make a ridiculously satisfying difference.
4. keep compartmentalizing (17 minutes)
Even within your shelves and drawers, you'll want receptacles to contain the "smalls": cotton balls and swabs, hair ties, makeup, etc. They may as well be stylish. Over-the-toilet baskets stow towels, washcloths, and other supplies tidily. Some, like this chic version from O&O, stack to create more storage space.
5. make like a style icon and accessorize (7 minutes)
It's time to dress up the room with chic accessories. How about a fresh shower curtain and bathmat? If you like, add a matching toothbrush holder, soap dispenser, and wastebasket, or, if you're not into matching, mix it up with coordinating pieces. Then add the finishing touch: thick thirsty towels!