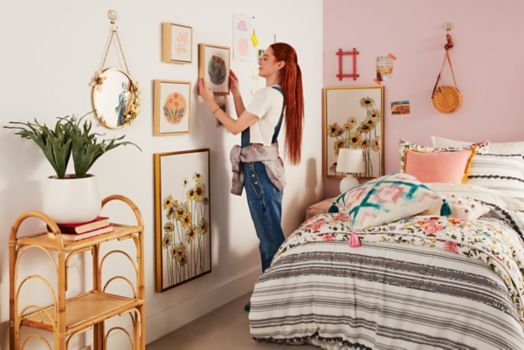 Amp up the style factor with inspiration from Wild Sage™
Want to add a little personality to your space? Don't worry—you don't have to be a pro to create a vibe that's a perfect reflection of your taste. We asked college students (and one recent grad) with great style how they add a little zhuzh to their decor.
Cluster your favorite framed prints and photos, paintings, and other objects together to make a gallery wall with your unique aesthetic. You can organize it by any theme—subject matter, medium, color, even frame material—or just put together the things you love to look at. Cruise around on Instagram or Pinterest for ideas. You'll be amazed at how easy it is to make a cool-looking gallery wall even if you only have a couple of pieces of "real" artwork.
This gallery wall is all about flowers, but keeps things interesting with variety: framed prints, an embellished mirror, and dried flowers. Notice the pops of color and the mix of textures, shapes, and sizes.
Recent graduate Callie B. just moved into her first apartment in New York City and she's got some advice: Before you start driving in nails, lay out all the pieces on the floor to see how everything fits together. Arrange and rearrange until you're satisfied, then hang it up!
practice shelf-expression
Shelves are not just for holding bins, books, and sweaters. They're perfect for displaying your collections and odds and ends—think seashells, vases, and pretty ceramics. A cute shelving unit will make the difference between ordinary and adorable. These two from Wild Sage are made of rattan, so they go in any room and with any décor. The one on the right has wheels, so it's super versatile. When it's not acting as a shelf, roll it around during parties as a bar or dessert cart.
For stationary use, start with the basics, like a reading lamp or a plant. Next, add little artifacts from your travels or other experiences. Once you've filled your shelf with favorites, take a step back and see what to remove. "Editing is so important," advises Shay M., a college student in California. "You don't want it to look crowded." She recently created a shelf to display her miniature cactus collection. The great thing about shelves is that you can change things up as often as you like—and you should, to keep things fresh.
Repeating materials or motifs can give a space the sense of being "decorated" with not a lot of effort. Art student Ash B.'s Miami apartment bathroom went from basic to beautiful with a few well-chosen rattan and metal pieces. Their advice: create a baseline with a few things that match, like an over-the-door shelf, a waste basket, and a shower caddy. Then add in colorful fresh towels and you're set. Add some vintage vibes with Depression glass-inspired bottles for potions, and eye-catching extras that express your personality—like plants, pretty soaps, and bright bath bombs. Ash's roommates asked them to decorate the rest of the apartment. "Now I'm obsessed," says Ash. "Seriously considering a career in interiors."
follow us!
Follow @mywildsage on TikTok and Instagram for more inspiration.