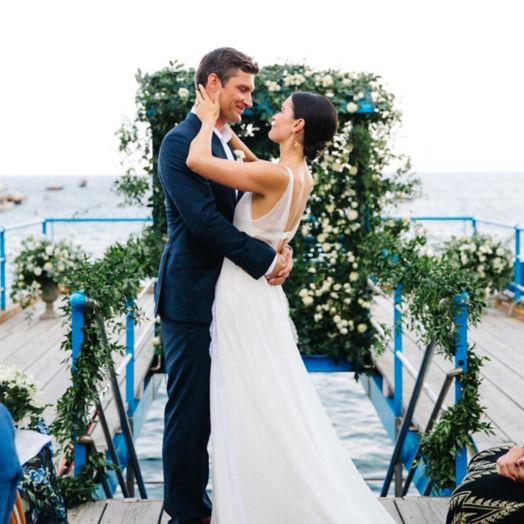 Katie Lee Biegel's wedding registry tips
Love at first sight, more like love at first bite for my husband and me. Ryan and I are both food-obsessed. We love exploring new cuisines, trying out restaurants, shopping at the farm stands or for specialty items, and we both love to cook. When we first got together, I relegated him to clean-up duty mostly, because I enjoyed cooking for him (and honestly, I thought it was a great way to impress him!). Now, we take turns and I really enjoy the nights he cooks for me. I tend to make the classics and Ryan is a bit more adventurous. He loves my roast chicken with croutons and my favorite dish that he makes is the Vietnamese dish Bun Cha.
When cooking with your partner, I think it is important to "let go" a bit. Get creative, have fun, and be willing to try something new. Cooking and dining together is a great way to bond, and also to make your house into a home. Here are some of the items that Ryan and I have found to be essential in our kitchen.
1. a really good chef's knife
The most necessary tool you need in the kitchen is a great knife. Your chef's knife is the one to splurge on, and I love this one from Global. Take good care of it, and it will last a lifetime.
When you're just beginning to build your kitchen, start small with the basics and go from there. You will need a good fry pan, a saucepan, a Dutch oven, and a saute pan. Bonus points if the pieces are oven safe as well. This set from Caraway is durable and nonstick. For baking, a few sheet pans are a must. I absolutely love this 3-piece set from Our Table. Cleanup is a breeze... I've had melted cheese all over these sheet pans and it comes right off.
A nice coffee maker is something the bride and groom will use every day forever. All I've got to say is caffeine. We can all attest to how important that is, am I right? I love this classic Cuisinart coffee maker and for a real splurge, the Breville Barista Express is truly incredible.
Food processors are great tools, but they're so big and bulky. If your kitchen is tight on space, they're not always the best use of real estate. I use my mini food processor several times a week. It is easy to store and so nice to use for prep work. Plus, since it is small, you can put it right in the dishwasher when you're done. I like this one from Cuisinart.
A standing mixer is one of the ultimate wedding registry items, because it is a big-ticket purchase, and maybe something you would not buy for yourself. I think a standing mixer makes prep work a breeze and when it is not in use, it is as much a decor item for your kitchen as it is a functional cooking tool. Kitchen Aid is a classic!