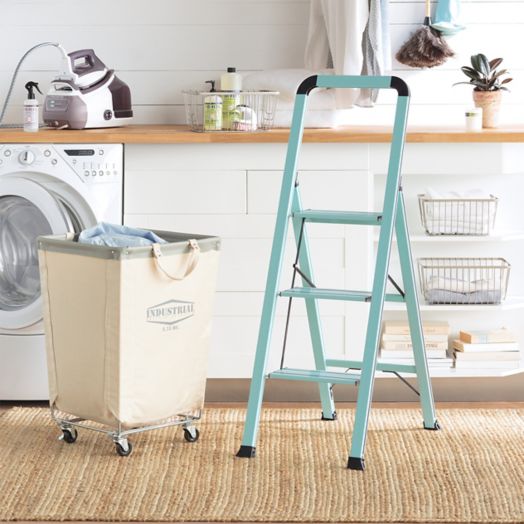 laundry room organization
laundry room organization — 7 tips to organize your space.
Laundry rooms are overlooked spaces in many homes. Some people even think that as long as they have room for a washer and dryer plus detergent and a few other supplies, they don't need to do anything else. With the right laundry room ideas, however, you can make the space more functional for you and your family.
Laundry room storage ideas often include the use of wire shelving. While many homeowners like the look of wood shelves, this is risky. Laundry rooms are prone to heavy moisture and leaks, which can wreak havoc on wood. Wire units resist water, and they give you room to display the detergent and other products you use. You'll find tiered wire shelves with enough space to store cleaning supplies that you don't want to keep in another room. If your laundry room is cramped, consider wire shelving that you hang above your washer and dryer. With laundry room basket storage, you can pick out a few baskets to store items on those shelves.
2. invest in a laundry hamper
While you can easily carry small loads of laundry in your hands, bigger loads need a laundry hamper. Laundry hampers come in handy when you use them in your bathroom and bedrooms. Some have a removable bag inside. This bag allows you to remove the contents and take them to the laundry room, then carry them back when they're clean. Other hampers have wheels on the bottom to make it convenient to roll them around your house. Both
laundry baskets & hampers
can help you organize your laundry room and keep track of clean and dirty clothes.
3. install a laundry sorter
Do you live in a multi-person household and do laundry once a week? You probably know all about the hassles of separating the whites from the colored clothing and trying to wash similar pieces, like delicates, together. A laundry sorter can save you some time. These laundry room accessories usually have three or more compartments. Use those compartments to keep track of the fabrics you can wash together. Some of the top designs have removable bags that help you carry clean laundry to other rooms, too.
4. opt for storage bins and baskets
Many people use their laundry rooms as more than just a place to do laundry. You might store your vacuum or a mop and broom in the room or use it to hold the cleaning supplies you use in your bedroom or bathroom. But every time you walk into the room, your eyes will go right to those items and hate how cluttered the room looks. Storage bins provide an easy way to get those items out of sight. You can use lighter colors that are almost see-through to make sure you know what's inside or darker colors that hide the contents.
5. incorporate a drying rack
Dry cleaners charge a lot of money but let you drop off your delicate clothing and pick them up later. You can wash all those pieces at home and keep them in good shape with a laundry room hanging rack. It takes only a few minutes to set up most
drying racks
and even less time to put them away. You can look for racks that attach to the wall or fold flat.
As you look for laundry room organization ideas, consider picking up a storage tray. While you may not have enough room for multiple laundry room storage containers, even the smallest of spaces will have room for a tray that sits on top of your washer. As you go through the pockets of your clothes, the tray gives you a convenient place to put anything you find that you don't want to wash, such as makeup or spare change. Storage trays are also easy to carry from one room to another to empty.
Some clothing is easy to wash because you can toss them in the dryer and immediately put them away when they come out. However, delicate fabrics often require ironing to keep them from wrinkling. With an easily accessible ironing board, you can quickly remove wrinkles, then hang the clothing on a laundry room clothes hanger before you find a spot for it in your closet. If you think your laundry room is too small for an ironing board, think again. The
ironing boards
available today come in designs that are compact and don't take up much space. You'll even find tabletop models that you can use on top of your washer to save space.
Even the smallest of laundry rooms becomes functional when you incorporate the right storage ideas. Make the room work for you and still have space for all the supplies you need with one or more of these laundry room ideas.