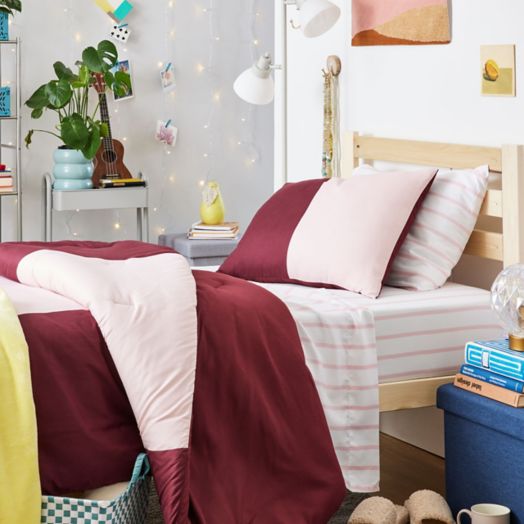 make it cozy! everything you need for a great dorm bed
the key to the ultimate bed is layers—make sure you have them all
Dorm room beds are not exactly known for being luxurious… or comfortable… or new (lots of people have slept there before you). The good part? Your bed is the perfect opportunity to show off your style and make it yours.
One term to know: twin XL. Most dorm room mattresses come in this odd size, which is five inches longer than a standard twin-size bed. When buying fitted sheets, mattress protectors, and mattress toppers, it's important to keep this dimension in mind!
mattress & pillow protectors
A mattress protector is an absolute must. It creates a barrier between you and your mattress, which you want because you don't know who or what has been there before. Plus, it protects against bedbugs, spills, and the like. Just trust us on this one. A pillow protector also fends off allergens like dander and dust—and can extend your pillow's life span.
Mattress toppers are all about comfort. A few inches of extra cushion can give you better sleep—and you know how much you'll be needing that. And, if you are a hot sleeper, some of our toppers have cooling properties.
These also can add comfort, act as a waterproof layer, and regulate temperature, but their main job is holding the topper and protector in place—important!
We recommend two sets, or three if you have the room, so you can change your sheets without having to do laundry. Remember, twin XL! If you're buying separates instead of sheet sets, only the fitted sheet needs to be twin XL. Fun fact: In a set, the bottom sheet is the only one that's extra long anyway.
Pay attention to specific features, such as the thread count and fabric: Are the sheets designed to wick moisture or help you keep you warm? Consider the weather where your school is located and the air conditioning situation in the room (if there is one), and pick what works for you.
To top your bed, you'll need a comforter or a duvet cover with an insert. This is a personal choice, and there are advantages to both. We love a duvet cover because to clean it, all you have to do is remove the insert and toss the cover in the wash. Covers come in lots of colors and patterns, and you can choose your style independently of your insert.
With a comforter set, it's easy to give your bed a cohesive look. They usually come with shams, so you won't have to buy additional pillows and your bed will still look put-together. For college, we highly recommend going with a machine-washable version. It will make life so much easier!
An extra blanket is always good when you're chilling and don't want to get all the way under the covers. Great for naps, on extra cold nights, or for when visitors come to stay.
You need a comfortable one. Note: Having more pillows doesn't necessarily mean you'll be more comfortable. Too many pillows can crowd your room. Remember, space is going to be tight! Get one or two nice pillows that do the job well, and you'll be good to go.
These add a little flair (and comfort) to your bed. While you don't want to overdo it (because, space), one or two shams along with throw, body, or backrest pillows are great additions to your space. They can also help keep you comfortable while you sleep, make your space homier, and be used to help you sit up taller when you're watching TV or studying.
The easiest way to get your stuff to campus! With Pack & Hold, buy now, and pick it up near campus on Move-in Day.