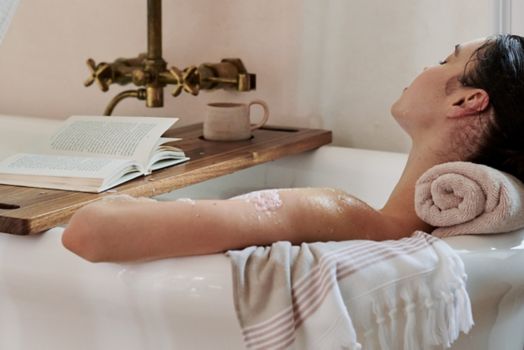 give the gift of me time with spa-inspired bath essentials from Haven™️
She's too sweet to say it, but this Mother's Day (and maybe once in a while after that) Mom would very much enjoy clicking the lock on the bathroom door, luxuriating in a tubful of bubbles, and otherwise pampering herself to her heart's content. All alone. Uninterrupted. Just for a while. Is that so much to ask? We didn't think so either. With some well-chosen gifts from Haven's new collection of spa-worthy essentials, you can help Mom do just that.
For post-bath or anytime lounging, Mom will delight in slipping on a lightweight linen kimono or thick and absorbent wave-texture robe. (A tube of rich body lotion tucked into the pocket of said robe makes for a very thoughtful gift.)
set the stage for relaxation
Beautiful furniture and well-designed accessories can turn the bathroom into a place of tranquility and repose. Consider pairing a new wooden bath caddy with a container of aromatherapeutic bath salts, a good book, or a glowing candle in her favorite scent.
indulge her with softness
Big bountiful bath sheets encourage deep relaxation with their sheer luxuriousness. Inviting textures like sculptural waved ribbing, plush waffle weaves, and classic terry loops are cozy, while details like rounded corners make Haven™ Turkish bath sheets feel extra special. A cushy bath rug provides a sink-in-soft postbath landing.