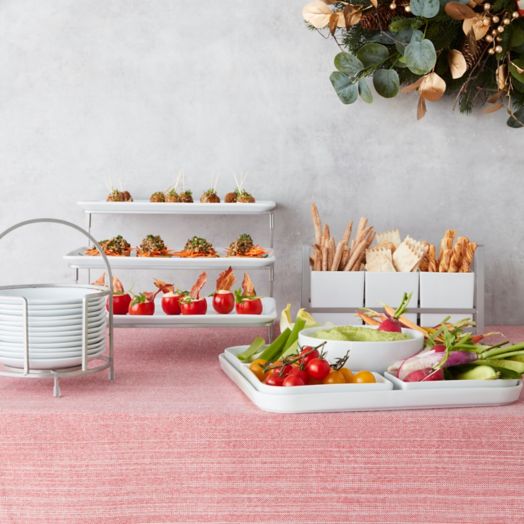 win the holidays with these 6 multi-use items
stylish and affordable, these must-have serving pieces make entertaining a breeze
If you're ready to take your hosting skills up a notch this holiday season, be sure to add a few of these items to your repertoire. From classic serving boards and trays to a set of stemless glasses, our must-haves will help you entertain with style and ease—throughout the whole year.
These add height and interest to large tables buffets, maximizing your serving space and elevating the look of the simplest bites, from store-bought cookies to sliced veggies to pigs in a blanket. Multi-tiered servers are perfect for pot luck-style parties—just fill the platters with various dishes and you'll have more than enough room for everything!
serving trays with handles
A tray with raised rims and handles can serve so many purposes that it's worth keeping several on hand. They can transform an ottoman into a coffee table to hold drinks and snacks. They're also a classy way to bring dishes to and from the kitchen or present a signature cocktail. A tray is also a great way to organize mixers on a bar or to corral glasses and flatware on a buffet table.
Similar to trays, cutting boards and shallow dishes are a beautiful way to serve appetizers. When you have surprise guests, simply set out some cheese, charcuterie, and any other snacks on a few boards, open a bottle of wine, and you've got yourself an elegant cocktail party. We love a matching set, but these boards are just as chic when you mix and match wood, marble, and ceramic.
We love these for two reasons: They help free up precious refrigerator space and keep guests out of the kitchen! You might want to buy a couple so you can use one for beer and wine and another one for nonalcoholic drinks. They're easy to restock during your party and guests can refill their glasses with ease. When you're not entertaining, tubs are a great way to store hats, gloves, and winter accessories, or even your children's craft materials.
appetizer picks & small skewers
Want a quick way to make impromptu, easy-to-eat appetizers out of what's on hand in the fridge? Appetizer picks, aka fancy toothpicks, are a great way to whip up an impressive dish (or cocktail). Try combinations such as melon and prosciutto, grape tomatoes and mozzarella, pickles and olives, or fruit salad with honey and mint. So easy, so affordable!
The most versatile glassware ever, stemless wine glasses are easy to hold, less likely to tip, and perfect for serving more than just wine! Use these new basics for cocktails, punch, sparkling water, and just about any chilled beverage. Bonus: They simplify your bar setup, too.
and… always-welcome holiday gift ideas
for the power shopper
A Welcome Rewards™+ membership is an excellent gift for anyone who likes to save. They'll get 20% off their entire purchase every time they shop and 5 points for every $1 spent—no exclusions. Oh, and free shipping on every order! All that (and lots more) for just $29.
for anyone and everyone
A Bed Bath & Beyond gift card is the perfect way to show your appreciation to everyone from your mail carrier to your babysitter to your most finicky friend. Keep a stack on hand at the holidays (and all year long), and you'll always have a gift ready.
for last-minute gifts!
Need something today? Buy online and pick up your order within one hour using Curbside or Store Pickup. Or, have it sent right to their door with Same Day Delivery for as little as $9.99.