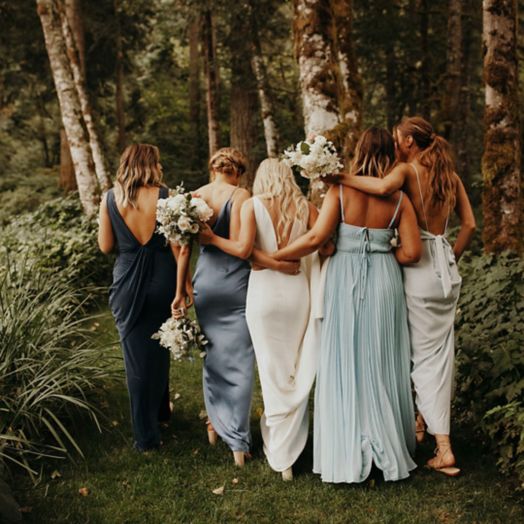 tips on selecting your A-list wedding party
Before you party at your wedding, you need to pick your wedding party. This is the group of people who will be celebrating at your side on your wedding day and at your wedding reception acting as bridesmaids and groomsmen. The bridal party, or wedding party, serves as more than just a glamorously clad photo fixture on the big day. They are the close crew of people who will accompany you during events leading up to the wedding day, like the bachelor party, bachelorette party, and act as support in the wedding planning process, and of course smile beside you during the "I do's." Be sure to consider this list of tips when choosing who you want for the traditional wedding party roles.
how big should the wedding party be?
The size of your wedding party is completely up to you. Typically, an even number on both sides is ideal. We like symmetry, right? But you may also choose a non-traditional wedding party or not have a wedding party at all. Couples who choose elopement tend to forego the accompaniment. And, if selecting a limited number of people makes you cringe, opt for the ease of just the two of you. Typically a wedding party will include a maid of honor as well as a best man at minimum, but as always it is up to the discretion of the bride and groom. An easy way to narrow down the wedding party is to choose close family members or best friends to stand up next to you on your wedding day. Sometimes the bride and groom also choose to have a flower girl or ring bearer as part of their wedding party members.
You should also consider your budget and venue size in this decision. In some instances, the nearlyweds cover some of the wedding party's costs. Decide if it makes sense to factor this into your wedding budget. Alternately, you want to consider your friends' financial situations when asking them to commit to things like wedding attire like bridesmaids dresses, tuxes, and travel for the bachelor/bachelorette parties. And, ensure the physical space for your wedding can accommodate the number of people you envision having beside you on your wedding day.
who should you pick to be in the wedding party?
There are no strict rules to follow here, but to make the decision a bit simpler, start with siblings or close family members. If you have siblings you're close with and feel supported by, they make pretty easy wedding party members. They're kind of stuck with you anyway, right? Starting and ending with siblings can also help you avoid having to narrow down your close pals. Close family members often take the spot of maid of honor or matron of honor (hello sister!) or other wedding party roles.
After siblings, consider your nearest and dearest friends. This isn't necessarily a popularity contest and it certainly shouldn't just be about who will look best next to your dress. Choose friends who you deem reliable as you'll need your wedding party members to show up and help out. Choose friends who you know are easy to get along with and won't cause any drama in a group that sometimes doesn't all know each other well. The wedding party selection can get a little iffy when you're worried about hurting someone's feelings. Maybe your friend from childhood who you have grown apart from over the years expects to be on the list. Remember the choice is yours, and you can be gracious but direct with your boundaries on who is a part of your bridal party.
---
pro tip:
make sure you create a Bed Bath & Beyond Wedding Registry, so your wedding party knows exactly what to get you as a gift.
---
should you have kids in your wedding party?
In a traditional wedding, the roles of flower girl or flower pal and ring bearer are filled by younger children. Kids are a super sweet addition to the wedding ceremony, but it's important to consider what including them in the wedding party will look like and if it's right for you. A furry friend can be just as cute, with fewer tantrums, so consider that if you're animal lovers. It's also helpful to consider if you plan to have kids a part of your wedding or if it will be a "no-kids" type of wedding. If you do, then the flower girl and ring bearer will have other kids to hang out with or vice versa.
who does what in your wedding party?
These are the roles within a traditional wedding party. You don't have to name specific people to roles and instead can opt to have everyone be on the same "level" with shared responsibilities. Your call.
Maid of Honor or Matron/Man of Honor: the bride's wingwoman or man who helps choose wedding party outfits, attends wedding dress fittings, and takes charge of bridal party, bridal shower, and bachelorette party planning.
Best Man: usually the groom's best friend or sibling who plans the bachelor party, sometimes holds the wedding rings prior to the ceremony, and gives an epic speech at the reception.
Bridesmaids: the women or mixed-gender group who will walk ahead of the bride at the wedding ceremony, help plan the bridal shower and bachelorette, and show up with bells on for every event leading up to the wedding day. Think of these people are your bridal entourage who you can lean on to lend emotional support leading up to the wedding day.
Groomsmen: the men or mixed-gender group who will stand beside the groom at the ceremony and share similar responsibilities as the bridesmaids in supporting their half of the betrothed. They will attend the bachelor party and sometimes escort guests at the wedding reception.
Flower Pal or Ring Bearer: the kiddo–or furry friend–who walks ahead of the wedding party, sometimes tossing flowers and carrying the rings.

To learn more about the wedding party and traditional wedding party roles, the Loverly I Do Crew has a whole course on How To Ask and Manage Your Bridal Party, and Bed Bath & Beyond customers get a discount.
Special Offer for Bed Bath & Beyond Customers
Save 50% on Loverly's Masterclass video series to help you plan your wedding! Create a registry now to access this exclusive offer.