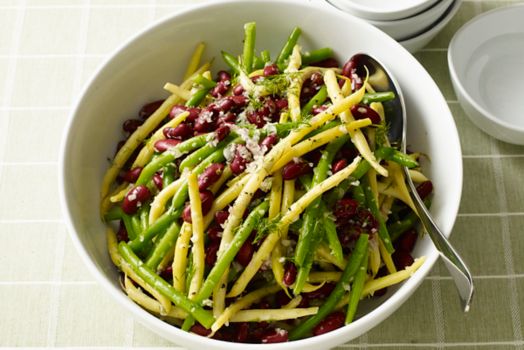 Recipe Roundup: Spectacular Summer Sides
We're sharing our favorite summer sides for serving at barbecues, picnics, and other memorable warm-weather gatherings.
If you're a vegetable person, you know summer is prime time. If you're not a vegetable person, perhaps summer produce will be just the thing to convert you. This is when tomatoes taste how they're supposed to taste and great, heavenly sweet corn isn't hard to find. It also yields the best fruit; big shout out to peaches, plums, nectarines, and all of the berries.
The best produce makes for the best side dishes, which, let's be honest, are often the best part of the meal. We put together a list of some of our favorites to share with you.
Freekeh, Peach, and Goat Cheese Salad Recipe
We can never say no to a grain salad, and we're especially not saying no to one that comes with peaches and goat cheese. We love this as a side dish pretty much anytime. Since the base is grains and not greens, it holds up well under dressing and is super portable. Bring it to a party, the park, the beach, or even, ugh, work.
Fresh Three Bean Salad with Dill Recipe
Yellow wax beans, green beans, and dark kidney beans are paired with dill, shallots, and white balsamic to make this fresh, delicious, and strangely addictive dish. We'll be eating this all summer long while we sit around wondering why we don't put the dill-shallots-white balsamic combo on more of our culinary creations.
Summer Refreshing Cucumber Salad Recipe
Sometimes the easiest recipes turn out to be the best dishes. This cucumber salad is one of those. You can make it with ingredients you probably already have, and it doesn't take a lot of time. One quick thing, though: Our recipe, as written, makes six servings. That's probably not enough. You're going to want to have a batch of this in your fridge at all times, so if you're making it for a group, we suggest doubling it.
Vietnamese Rice Noodle Salad Recipe
This salad works as an entree (the recipe calls for chicken, shrimp, steak, or tofu), but remove the protein and you've got a bright, flavorful side dish that pairs nicely with all your summer staples.
Asparagus, Snap Pea, and Edamame Salad Recipe
When asparagus is in season, there's a 99 percent chance you'll find it in our shopping bag. And when we have asparagus on hand, there's a pretty good chance we're making this salad. It's super summery and light, and it's the perfect side for pretty much anything that comes off the grill.