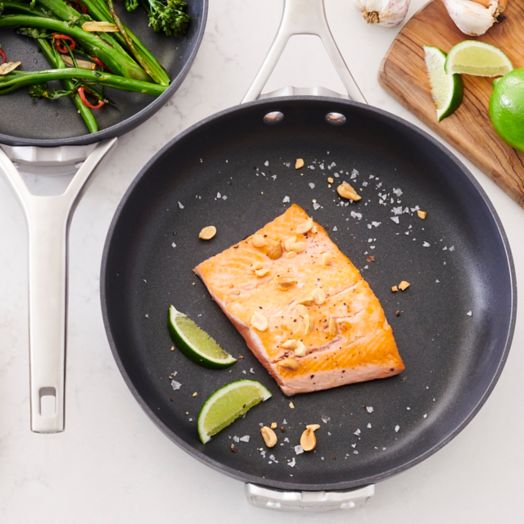 seared salmon with salted peanuts, soba noodles, and broccolini
this recipe is a win-win-win: healthy, delicious, and so easy to make!
4 four-oz. skinless salmon fillets
2 tablespoons olive oil
Salt and pepper, to season
½ cup roasted, salted peanuts
6 oz. soba noodles
1 tablespoon toasted sesame oil
1 tablespoon soy sauce
¼ cup mixed black and white sesame seeds
broccolini
3 tablespoons extra-virgin olive oil, divided
1 big brunch broccolini, ends trimmed on an angle and large leaves removed
2 small Fresno chiles, stemmed and sliced into thin rings
2 large cloves garlic, thinly sliced
½ teaspoon kosher salt
¼ teaspoon freshly ground black pepper
Limes, for serving
instructions
1
Remove the salmon from the refrigerator and bring to room temperature for at least 10 minutes. Use paper towels to pat the salmon fillets dry on all sides.
2
Heat the oil in a heavy stainless steel skillet over medium heat. Season the salmon fillets with salt and pepper and carefully lower into the pan, skin side down. Let the salmon sear, completely undisturbed, for about 5-6 minutes.
3
Use a fish spatula to carefully flip the fillets. They should release easily from the pan.
4
Cook the salmon for 2 to 4 more minutes, until cooked to medium-well. Transfer to a plate and let rest for five minutes. Sprinkle with chopped, roasted peanuts.
5
Meanwhile, cook the soba noodles according to package directions. Drain and rinse well in cold water. Let cool, then toss the cooked noodles with the sesame oil, soy sauce, and sesame seeds.
6
Make the broccolini: Heat the olive oil in a cast iron or stainless steel pan over medium heat. Add the broccolini to the pan and sear for 3-4 minutes, until beginning to soften and brown in spots.
7
Add the garlic and Fresno chile to the pan and season with the salt and pepper.
8
Let sear for another 2-3 minutes, until fragrant. Remove from heat.
9
Divide the salmon, soba noodles, and broccolini between four plates. Serve with fresh wedges of lime.