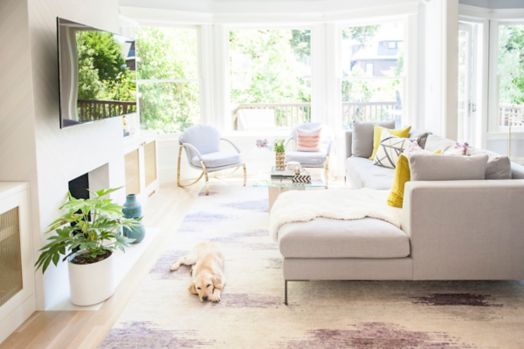 refresh your home with tips from decorist
Mikayla Keating, Decorist designer, is ready for spring. Use her tips to make your home lighter and brighter by focusing on a few simple, easy design tweaks and say hello to the new season!
Lighten up your textiles without sacrificing coziness and comfort. Each spring I put away the heavy blankets and bring out the airy linens, playful patterns, and softer tones. I love to spark joy by adding throw pillows in sunny shades of yellow, soft pinks, and greens. They look pretty layered on a sofa or on the arm of a favorite chair.
Bringing the outdoors in is one of my favorite ways to welcome spring. Not only does greenery add color, but florals and plants are instant mood-boosters. And nothing says spring quite like a vase full of flowers—or try putting tall branches in a large vase for a major wow moment. A little goes a long way.
Make tidying up fun with beautiful baskets that are both practical and easy on the eyes. I love an open-weave basket in the living room for magazines and throws— or to hide messy piles of toys or shoes. A folded blanket placed over the basket makes for a polished look. I want homes to be peaceful places where we can unwind and recharge so it's nice to get clutter out of sight.
A super soft sheepskin draped over a sofa adds a lot of natural texture and warmth to your room, not to mention that it's a great way to hide stains. Sheepskins work year-round, are made to last, and can stand up to pets, kids, or a pair of feet kicked up at the end of a long day.
Spring is springing! Take a cue from the outdoors and add color or pattern to your walls. A fresh coat of paint in soft shades of green, grey or blue can make a room feel new. Or create a pretty garden mood with floral wallpaper for a pop of color. I really like the romantic vibe of this wallpaper and would love to see it used as an accent wall or tucked against the back of a bookshelf for some unexpected drama.