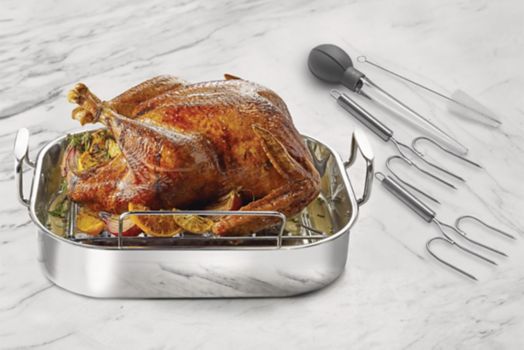 Starter Pack: Roasting 101
Roasting requires no special equipment, but you'll probably enjoy it more if your equipment feels special. Dial up your holiday roasting with these tools, and you'll be dishing up deliciousness all season long.
When the oven dial passes the 400-degree mark, it's understandable that the novice roaster would feel a little anxious. Because when it comes to blasting food at high temperatures, even for brave hearts, there is something to fear besides fear itself: ruined pans and third-degree burns, for starters. But with a little faith and the right tools, you'll be roasting safely and fearlessly in no time.
You can't go wrong with stainless steel, which has excellent heat conductivity and can withstand very high temperatures. The pan in this roasting set from Artisanal Kitchen Supply is well-made, large enough for a hefty turkey, and comes with great accessories, including a baster, turkey lifters, and a rack with excellent grips for lifting hot roasts.
For smaller birds and cuts of meat like chuck roast, a five-quart Dutch oven is standard equipment. The pan's iron sides distribute heat to help crisp the food surfaces, and the lid comes in handy if you need to slow down the browning. This cherry-red Dutchie from AKS adds a festive pop to your table and holiday potlucks.
A good meat thermometer takes the guesswork out of food prep. This model from OXO Good Grips alerts you 10 minutes before the roast is done—just in time to finish the mashed potatoes. This borderline bossy thermometer also provides chefs' temperature recommendations, as well as those of the USDA, so you can manage your risk-to-relish ratio on good authority. (Now if only the folks at OXO could come up with a tool to warn you 10 minutes before Aunt Mary starts roasting Uncle Ike.)
A capacious baking sheet is the roaster's best friend. The more space you have to spread out your food, leaving surfaces exposed, the more crunch and flavor-intensifying caramelization you'll achieve in the roasting process. If you're willing to invest in a roasting sheet you can use again and again, this deluxe edition from All-Clad is designed to withstand the high temperatures you need to reach to get the best out of your vegetables.
Tovolo's very cute silicone mat evens out heat distribution, makes cleanup super easy, and comes with roasting guidelines for many vegetables printed directly on it.. A lasagna pan is also a great way to maximize exposed surface area when roasting vegetables, and the cover on this one from All-Clad helps you transport them safely to holiday potlucks.
The high temperatures roasting requires can foster a great appreciation for the finer points of product design. Extra-long tongs will preserve your arm hairs and skin when you're tending to roasted vegetables, as will this heavy oven mitt from All-Clad. And this poultry lifter from OXO Good Grips® will finally put to rest your fears of fumbling a slippery, scalding hot turkey moments before showtime.
The best part of roasting—the caramelization and char—is the worst part of cleaning up, right up there with grease. You can easily mitigate that mess with one of these reusable liners from Chef's Planet. Use one to line your baking pan or roasting sheet, and another to protect the oven floor from bubbling pan juices and other goo that breach the brim during cooking. Then pop your pots in the dishwasher and save those juices for another day.
If you do get a sticky or burnt mess, soak your roasting vessel in hot soapy water for half an hour. Mrs. Meyer's liquid dish soaps provide calming aromatherapy to help you cope with cleanup while they do their thing. Scrub trouble spots with a nylon scouring pad. If they resist, sprinkle on a little baking soda and attack them with the scouring pad again.
With the right tools in your kitchen, you'll find that you can stand the heat. What are you waiting for? Start roasting!