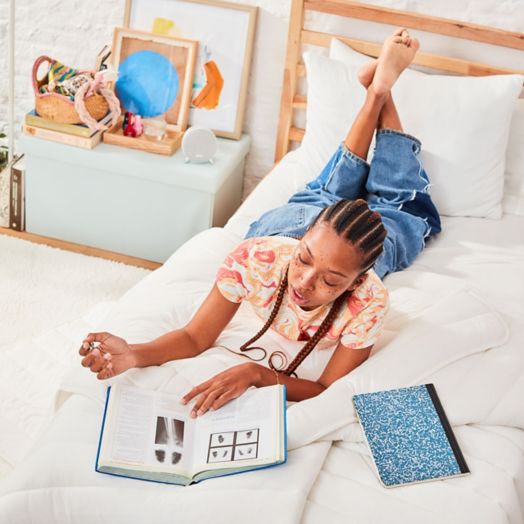 sustainable college living: yes, it's possible! (and easier than you think)
check out these products that are friendlier to the planet
Being sustainable at college is more achievable than you might imagine. As everyone is looking for ways to reduce their carbon footprint, here are a few items to help you live more sustainably in dorms, apartments, or off-campus housing.
Let's start at the center of your world: your bed. Consider investing in organic bedding that's made from earth-friendly resources and creates less waste. From a plush bamboo mattress topper to organic 100% cotton sheets, comforter, and pillows, not only are these good for the planet, but also super cozy and comfy.
Whether cleaning a cereal bowl or wiping down surfaces, consider choosing supplies like dish soap, paper towels, and scrubber pads that are made using thoughtfully chosen ingredients and compostable materials over those that are created with harsh chemicals and plastics.
If coffee (or tea) isn't a part of your daily diet yet, it will be soon. Whether you like it hot or cold, think about investing in reusable coffee filters, mugs, and even straws—a great way to cut down on waste and costs, too.
Say goodbye to plastics and try these durable silicon snack packs and disposable wooden plates instead. Single-use plastic bottles are a major cause of pollution, clogging oceans and filling landfills around the world. A much smarter idea is a reusable water bottle. According to EarthDay.Org, by using a reusable water bottle, you could save an average of 156 plastic bottles annually.
From 100% organic cotton towels and biodegradable cleansing wipes, to shampoo bars and bamboo toothbrushes, there are a ton of possibilities when it comes to living more sustainably at college.
recycle. compost. repeat.
Recycling is a continuous loop of reusing resources. So, designate a bin for cans and bottles. This way they don't get mixed with the trash, and it's easier to take it all out and recycle. Want to go a step further? Try composting. Instead of tossing scraps of food in the trash (which then fill the landfills), drop them into a compact compost bin with a filter (no smell here!) that's perfectly sized for dorms. Check with your school to find out what options they have for recycling and composting.