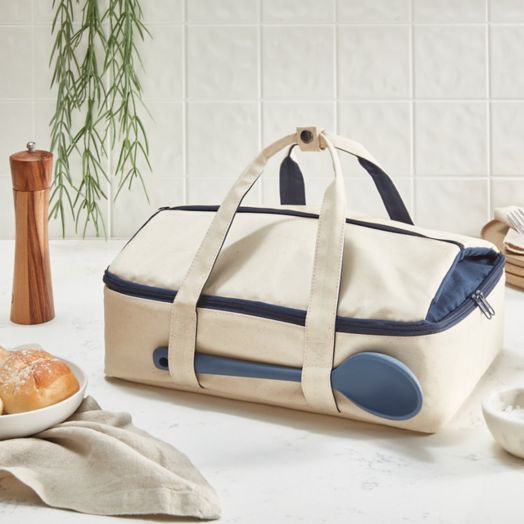 best food storage for those on-the-go holiday treats
inexpensive containers to help you deliver your goodies with joy and ease
'Tis the season to "bring a dish." From BYO-style parties to homemade treats for teachers, helpers, and co-workers, now is a big time for making, baking, and bringing. The right container is key to arriving with ease and joy—because nobody likes crushed cookies and sticky messes. Follow these packing strategies and your dishes will arrive in tip-top shape.
You'll need a travel vessel that has just the right combination of size, sturdiness, and spill-proofing. Here's what to keep in mind for some of the most popular "to go" foods.
appetizers
If you're bringing an hors d'oeuvre like crudités or chips and dip, you'll want a container that keeps your food organized and party-fresh. Transport dips, salsa, chutney, and sauces in Mason jars – they're spill-proof and look cute and homespun, especially if you tie a ribbon around the lid. Crackers and breads are best kept in their packaging until arrival, while sliced veggies are easily transportable in a glass or plastic container, or reusable Stasher bags. Keep veggies extra fresh by placing a damp paper towel on top before you seal the container.
baked goods
With most baked goods, the main travel risks are crushing, cracking, and crumbs. It's best to choose shallow, lidded containers that are sturdy and sized to prevent your items from sliding around. Nesting tins are great for cookies and bars, but frosting takes the complexity of travel up a notch because the decoration is so easily nicked. So for cakes and cupcakes, a caddy designed specifically for delicate treats makes it a snap to deliver them without frosting fails.
main dishes & sides
Hot dishes like soups and sides hold up best in a glass or other melt-proof container that's microwave- and/or oven-safe (in case you have to reheat it when you arrive). To avoid in-transit spills, an option with a sturdy, well-attached lid is a much safer bet than foil or plastic wrap. You might also consider an insulated tote to retain the best temperature for your dish—these are also great for sides that need to keep cool.
take-home bags
Sending guests home from your own gathering with a small party favor is a thoughtful gesture during the holidays. Try packing up some cookies or chocolate in a bag with a sweet thank-you note. We also love the idea of a breakfast pastry or bagel to enjoy the next morning. And if your table is laden with leftovers, it's a generous (and practical!) idea to share some with guests. Just make sure you're placing the food in storage items you're willing to part with.
add a festive touch
Always, and especially during the holidays, your food presentation is key. Once you've found the right container, give it some festive flair by adding little touches that make the food feel like a gift. Attach a colorful bow or some modern-farmhouse twine to Mason jars or casserole dishes. Use cute hanging gift tags to label your goodies, and make bakery-beautiful stacks of cookies or candies by arranging them inside decorative cupcake liners.