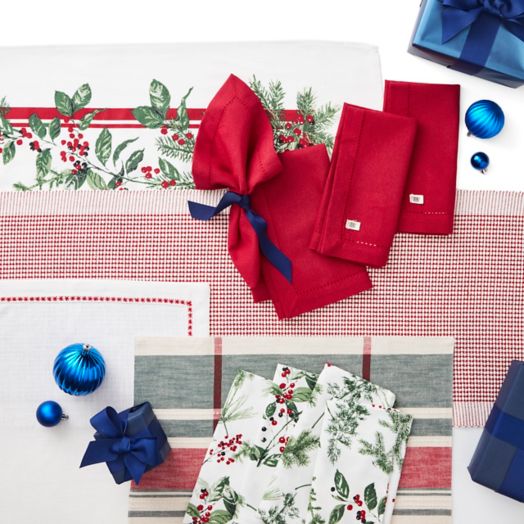 the ultimate guide to table style: 10 must-haves
make your list and check it twice—your holiday guests are coming to town
Ready to set the scene for an amazing dinner party? This piece-by-piece guide highlights the items you'll need to create a welcoming table, from fun and festive to chic and elegant. Cheers!
A tablecloth sets the tone, anchoring the vibe you're going for. We love a festive design in plaids or merry motifs for the holidays. If you want to keep your table safe from scratches, heat, and spills, start with a protective pad.
There's no rule that we know of that says you must use both a tablecloth and a table runner, but if you're in the mood for a super festivized holiday look, here's your chance. Longer styles look chic and classic, while a shorter one is a little more casual yet equally stylish.
If you're going for a casually chic style, placemats can be used without a tablecloth. But for the holidays, a layered look feels considered and celebratory. A placemat-napkin set is a classic choice, while mixing and matching them feels fresh and fun.
Cloth napkins just feel more elegant than paper—and they're obviously more sustainable, too. So that's our choice for the holiday season, from pretty winter scene motifs to jolly shades of red and green. However, if you're hosting a large group and prefer the ease of paper, go for it—just make sure they're festive!
Sure, napkin rings might seem a little extra, but they're also a great way to bring a pop of style to your dinner party. Think of them as (inexpensive) jewelry for the table, so opt for touches of shimmer and shine.
If you want your dinner party to feel sophisticated and a bit fancy, place an oversized charger at each setting—preferably ones with some festive flair.
7. practical yet pretty dinnerware
We love to go all out for a holiday dinner party, but try not to stress over the dinnerware. The plates will be covered in food most of the time, so don't feel like you have to break out the fancy china. There are so many pretty ceramic options to choose from, and we love mixing patterns for a fun and eclectic look.
8. dishwasher-safe flatware
Count your place settings well ahead of your holiday meal to be sure you have enough for everyone.
---
pro tip:
Purchase spare forks and teaspoons to eliminate washing dishes between courses, and be sure to use dishwasher-safe pieces.
---
Making a toast feels more celebratory when you've got the right glass. If you're serving wine, it feels extra special to have glasses made for red and white—and don't forget tumblers for water and other non-alcoholic drinks.
A centerpiece is the finishing touch to your beautiful table—just make sure it's low enough so your guests can still see each other. Votive candles, pine cones, and ornaments are a great way to dress the middle of a large table, while an assortment of vases on a mirrored tray also look lovely.
and… always-welcome holiday gift ideas
for the power shopper
A Welcome Rewards™+ membership is an excellent gift for anyone who likes to save. They'll get 20% off their entire purchase every time they shop and 5 points for every $1 spent—no exclusions. Oh, and free shipping on every order! All that (and lots more) for just $29.
for anyone and everyone
A Bed Bath & Beyond gift card is the perfect way to show your appreciation to everyone from your mail carrier to your babysitter to your most finicky friend. Keep a stack on hand at the holidays (and all year long), and you'll always have a gift ready.
for last-minute gifts!
Need something today? Buy online and pick up your order within one hour using Curbside or Store Pickup. Or, have it sent right to their door with Same Day Delivery for as little as $9.99.