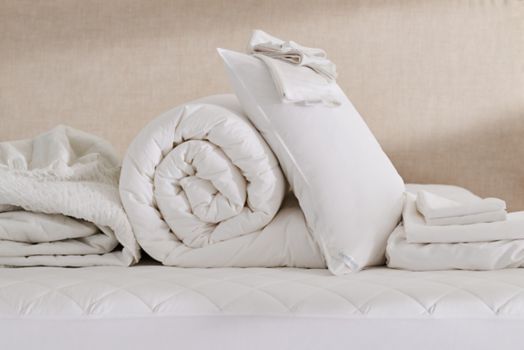 the foundation for better sleep with nestwell™
great sleep starts with great bedding basics
Before you slip on sheets and blankets, start at the bottom. These bedding essentials from Nestwell™ are a total game changer. Not only do they protect and maintain your mattress and pillows, but they also work together, layer by layer, to create ultra-cozy comfort. Here's how to build a base for great sleep, so you can get the rest you need night after night and wake up happy every day.
Clean mattresses aren't just pleasant to sleep on, they last longer. Easy to slip off and toss in the wash, a breathable mattress protector fends off stains and dust and keeps your mattress fresh and inviting.
For that sleeping-on-a-cloud feeling, add a mattress topper. Whether you opt for feathers or fiber, a topper provides a luxurious cushion of cozy. If your mattress has lost some of its bounce—or was too firm to begin with—a topper will save the day.
A mattress pad keeps your topper snug to the mattress and adds yet another layer of comfort and stain protection. Bonus: Opt for a waterproof version and you'll be less likely to lose sleep over spills or unwanted moisture damaging your mattress.
Add an overlay of softness and warmth with a comforter filled with sumptuous, lofty down or a hypoallergenic down alternative. Choose from three levels of cozy, from feather-light to just-right to totally toasty. Tip: Consider swapping out your top layer with a quilt or blanket so you can maintain the right temperature—and great sleep—all year long.
Are you a side sleeper? Do you sleep hot? Could you use a little extra support? It's remarkable how a pillow designed to address your unique sleep style with, say, cooling technology, or memory foam, can transform your nights. As always, pillow protectors will extend your pillow's fresh and functional life.
the next step to good sleep
Ahhh, isn't this cozy? Now that you have the foundation down, find out how to get better zzz's all night, every night. Read our healthy sleep tips.