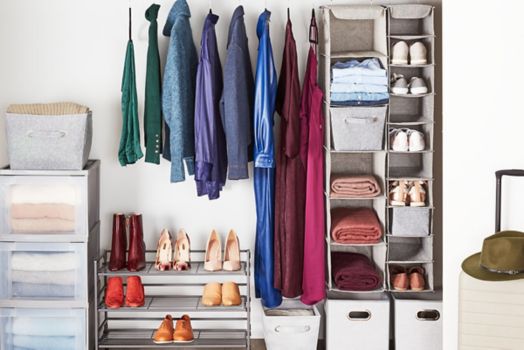 the one-hour closet makeover
transform this vital space in minutes with these tips and tools
We all think about doing that deep closet purge… someday. Why not give yourself an easy win, now? All it takes is a little planning and one hour of focused attention. Hint: Get a head start by gathering your gear in advance.
Take a few minutes to clear out the obvious trash, recycling, stuff that belongs somewhere else, and clothes for donation. Save the soul-searching about whether you will ever really wear that camo jumpsuit with the sticky zipper for another day.
Swap the wire hangers from the dry cleaner for a multifunctional mix of tiered and attachable hangers. It's amazing how much room you free up when you park five pairs of pants on one hanger. Also smart: velvet hangers. Not only does the slim silhouette free up space, but the nonslip surface prevents clothes from falling as you hunt for an outfit.
Now that you've slimmed down your hanging wardrobe, bring on the hanging shelves. Attach one (or two) to your closet rod to create room for dresser overflow as well as shoes. And don't overlook the closet door! An over-the-door shoe, cap, or purse rack might restore your faith in the closet fairy.
Your next step is to organize the closet floor. Clear everything out and give it a quick vacuum—isn't it gratifying? Now put your remaining shoes on racks and your other accessories in stackable drawers to keep them clean, organized, and contained. Choose a stacking drawer with a transparent front for things you want to keep visible, like scarves. Storage with swing-front doors provide easy access to frequent flyers, like sneakers. Open cloth bins are ideal for rolled towels or belts.