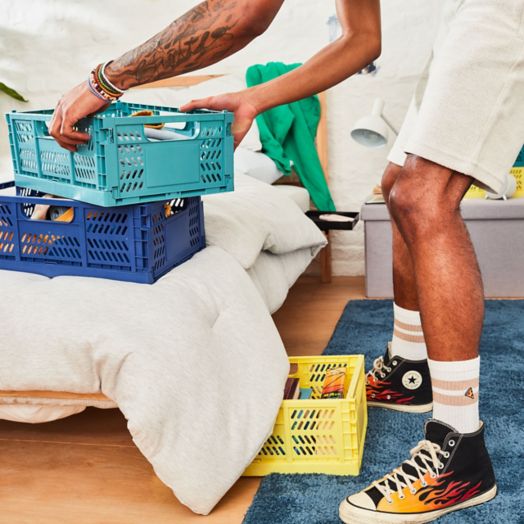 top tips for a less-stressful college move-in day
moving in can be crazy—here are some ideas (from an actual parent!) to help make it easier
1. prep way ahead of time
Knowing what to bring (and what not to bring) is half the battle. While they'll be tempted to basically bring their entire room at home to campus, strongly encourage them (bribe them?) to perform a thorough purging session to winnow things down.
2. pack bins & drawers beforehand
Things like towels, extra bed sheets, snacks, and bathroom supplies will be needed throughout the whole year. It makes sense to store them in bins and drawers that stack under the bed or, space permitting, near it. Pack all those items in their designated bins at home – literally a lifesaver on college move-in day. And don't forget to tape them shut to avoid spillage during the move.
3. save time: keep clothes on hangers
Trust us… you don't want to waste time hanging clothes on move-in day. Get slim hangers (the space-saving ones) and pre-hang the clothes at home, so they can go straight from the car into the dorm closet.
4. pack the basics in a weekend bag
Keep all the daily must-haves (toothbrush, phone/laptop chargers, hairbrush, contact lenses, deodorant, make up, eyeglasses, medicines, favorite cap, a fresh change of clothes) handy in a separate bag so you're not scrambling to find them at the last minute.
5. bring a toolkit, hooks & putty
College move-in day may involve some unexpected work, so keep a toolkit handy as you help set things up in their room. Also, stock up on adhesive hooks and putty—for hanging towels, wall art, tapestries, curtains, etc.
6. don't forget a fan, mini cooler & snacks
Move-in day typically falls in August. And that means it could be a sweltering, miserable day. Since most dorm rooms are not air conditioned or adequately cooled, a fan, chilled bottles of water, and snacks may help make the experience a little more pleasant.
7. pack bedding last, unpack it first
As you pack your car, put the bedding in a spot for first-out access. Keep the mattress pad, blankets, sheets, pillows, and comforter all together so it's easy to start making the bed.
20% off your ENTIRE order every time you shop with a College Savings Pass. Valid thru 9/30.
The easiest way to get your stuff to campus! With Pack & Hold, buy now, and pick it up near campus on Move-in Day.