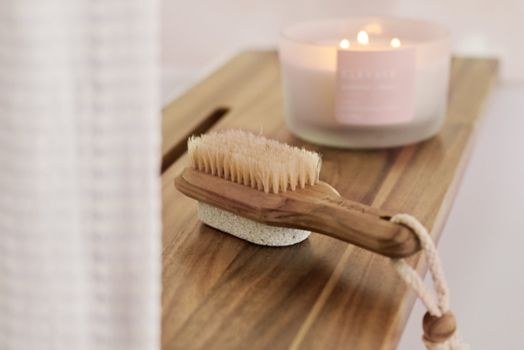 take some well-deserved "me time" with Haven™
how to prepare your most personal space for pampering
For those of us who can't just pop over to the spa whenever the urge strikes, here's some good news. Haven makes it easier than ever to conjure the spa experience at home. Here are a few ideas for turning your bath into an oasis of serenity—and reveling in relaxation.
Increase your room's relaxation potential by tidying your space. Stash your stuff with chic acacia furniture and accessories that evoke the elevated aesthetic of a high-end spa. An acacia tub caddy makes it easy to luxuriate with a book and cup of tea.
Enjoy the benefits of aromatherapy by placing fragrant sprigs of eucalyptus in a pretty container and letting the shower steam work its magic. Or go with scented candles or a diffuser and essential oils. Lavender is known to promote calmness and relaxation, but sniff around to see what works for you. It's a highly personal (and pleasurable) journey: you might find your bliss in bracing mint, sweet ylang-ylang, or spicy frankincense.
Create ambience with sound. Search "spa music" on your streaming service or just play whatever music you find soothing. Bonus tip: Create a nurturing neck pillow by rolling up a soft towel and positioning it under your neck in the bath for extra comfort.
One of the sensory delights of the spa experience is touch. Indulge your skin with pampering soaps, bubbles, salts, and sparkly fizz bombs of fragrance and balms. Try an exfoliating scrub or peel to smooth away the rough spots. Then finish up with a rich soothing oil or lotion. Just taking a time-out to take care of yourself is restorative—the skin conditioning is a bonus.
Luxuriate in softness and indulgent textures with towels and bath rugs made from organic cotton. Besides being cozy and comfortable, Haven™ towels are crafted for longevity with responsibly sourced clean materials, which makes them gentle on the planet.
Easy linen, absorbent cotton, plush waffle weaves… whatever your preference, a robe from the Haven™ collection will elevate your bath-time ritual. Bonus tip: Before you bathe, spin your robe in a hot dryer for a few minutes to make it irresistibly warm. Try a terry slipper with a cushy memory foam sole for padding about in your newly restored state of bliss.