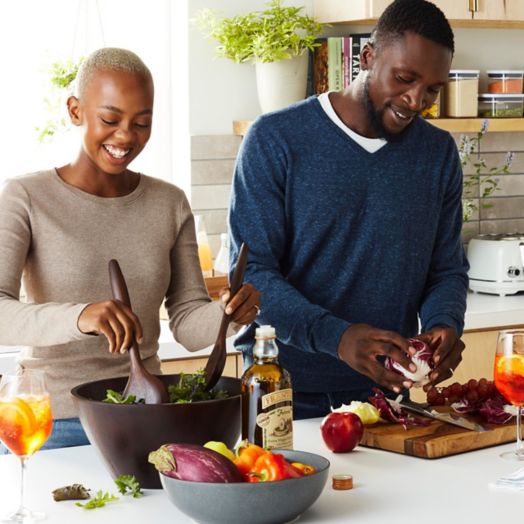 trending now on wedding registries everywhere
what are today's couples registering for?
After two years of pandemic-related postponements, experts predict 2022 will be the biggest year for weddings since the 1980s... which means A LOT of couples are creating their dream wedding registries right now! For inspo, we've rounded up the top 5 trends we're seeing on registries today.
it's OK to splurge. no, seriously!
Maybe it's because everyone's been spending more time at home lately. Or maybe it's because couples want to create the perfect place to enjoy their new life together. Whatever the case, we're seeing more couples splurge on the good stuff for their homes. And not just beautiful pieces made to last, but products that reflect their personal commitment to live healthier and greener lives, too.
work from home like a boss
Definitely another result of the pandemic, items for the home office are becoming more popular on wedding registries. From home office desks and chairs to lighting and storage, couples are clearly embracing the remote-work lifestyle and registering accordingly.
It's not just about the inside of your dream home anymore. Couples are looking to spruce up their outdoor gathering spaces, too. Grills and patio furniture are wedding registry must-haves for barbecue season, while fire pits and heaters are favorites for the chillier months.
get smart about staying connected
Our couples lead full lives—and now they're busy wedding planning. So, it's really no surprise that we're continuing to see things like robot vacuums and voice-control smart home devices on more wedding registries. Basically anything that can help them simplify their lives and give them more time for each other.
memories are the real must-haves
Experience gifts (think adventures and cool things to do together) remain a top trend for wedding registries in 2022. Much like the rest of the world, couples are ready to get out of the house and have some fun! We're seeing them add everything from once-in-a-lifetime activities like shark cage diving and helicopter tours that make for a memorable honeymoon to low-key spa packages and cooking classes that make great date nights closer to home.
Want to see all the top picks our couples love? Hop over to our wedding registry favorites for a detailed look.
Need to send a gift fast? It's easy with Same Day Delivery (only $9.99 for orders over $39) and your gift will arrive right on their doorstep.
create your wedding registry now!