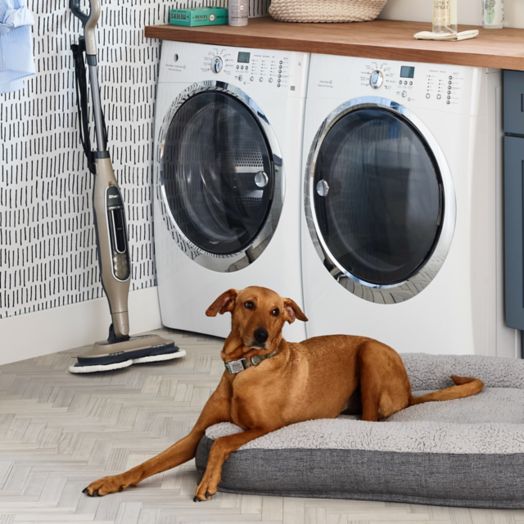 wedding registry must-haves for pet lovers
fun and functional pet gifts for you and your furry friends
Your wedding registry is meant to set you up for whatever comes after your vows. So if you are committing to a lifelong love with a family of fur babies, there's no shame in asking for gifts that satisfy everyone's needs. Whether you have a cat, dog, bird, iguana, or other animal companion, you'll want to consider them as you create a wedding registry of home and lifestyle pieces for the whole family.
Creating a category for pets in your wedding gift registry doesn't mean you need to dedicate all your big ticket items to animals only. But pet supplies can mean crating the pup for easier date nights, or a kitty carrier to help navigate the move into your new home. Let your wedding registry gifts help you achieve post wedding dreams so you can focus on training your parakeet to hold your rings on the wedding day.
Just how pet friendly are you two? Check The Basics for your standard items every pet parent should have, The Splurge for elevated nice-to-haves, and The Overachiever for top level, purr-fectly pet savvy status.
wedding registry rockstars
a round up of the most-loved items from every pet lover couple category
the must-have pet bedding & crates
Just like the bedding you likely have on your human gift list, your animals need a place to lay their heads (or to destress from the hustle and bustle of newly coupled life). Register with their sleep--and yours--in mind. Perhaps there will be a post wedding rule about too many animals in one bed. Shhh–we won't tell. Just make sure there's a comfy place for your furry family member to sleep now that sleep schedules are combining for good.
the basics
Add gifts like a bed or crate to create your basic pet sleep setup. You can go as simple or as ornate as you like, but since you're asking friends and family to contribute, find something that will last. Casper makes a dog bed fit for a furry king or queen that's both luxuriously comfortable and durable, no matter your dog's size or the amount of active dreaming they do. And you don't have to sacrifice the wedding registry to items that will collect dust or look unsightly in your home. There are ways to make sleep situations double as home decor, like with this Pawhut cat bed, chic enough for the feline and the rest of the family.
the splurge
Pet Steps | Pet Gate | Cat Perch
Just in case they are still allowed in the bed, make your home easy for your pet to navigate with steps and ramps on the wedding registry. Since you're signing up for growing old together, these are helpful for older animals, too. Create an orderly home with a pet gate, especially handy if and when it becomes time to separate human babies from the animal kind. Want your little love to play freely? Add splurge gifts like towers to climb, and perches to chill out on.
the overachiever
Dog House | Cat House/Litter Box
If you are the couple to give your pet its own royal palace, these wedding registry picks are for you. Create a verified sleep sanctuary, getaway shelter, or bath house in one. How about a barn-style dog house like this one from Trixie Pet? Or a kitty litter box and home in one? Your wedding gift registry is their oyster! And, again, it's about spoiling them and making sure your rest remains precious.
the best stuff for sweet dreams and cat naps
the must-have pet accessories
Your pets are your babies, right? So add items to your wish list that are for them, yes, and also helpful to you, just like a gift registry for babies. One thing at a time, we're at the wedding phase for now. You don't have to make the whole list about your pet, but you might as well include a few things from each category. Think about your everyday pet needs--feeding them, cleaning them, and taking them on walks.
the basics
Prioritize pampering your pooch (or bird or cat or hamster). It may sound weird to register for bath time supplies, but you're going to be buying them anyway, right? It's totally fair to add products like pet shampoo, as long as you're not registering for a lifetime supply. Jazz up your walking companions' gear with items like new collars and leashes. Maybe think about something you can customize with the family's new last name, eh? Family walks will be super cute.
the splurge
Have a little fun adding gifts to the wedding registry that go beyond your animals' basic needs, like a new set of food bowls just for them. Maybe before the big day you've been sharing your dinnerware, but weddings call for something new, perhaps something monogrammed or themed to match your interior decorating. Splurge for a brush to maintain your pet's good grooming and keep control of pet hair in your home.
the overachiever
Paw Cleaner | Nail Trimmer | Bowl Mat
Speaking of grooming, take it the extra mile with a paw cleaner and nail trimmer on the gift list. Your wedding registry is the perfect place for the pet tools you've always known you've needed but have never gone the distance to get. And wedding guests will be happy to help. For less spillage at meal time, a bowl mat is another often overlooked, super helpful accessory to have in the home. You'll be thankful you have one, especially if there is more than one bowl licker in the house.
the essential gear for grooming and beyond
the must-have pet carriers
If you're the couple who takes your fur baby with you when you travel, this wedding registry list is for you. Whether they are a registered service animal or just your trusty copilot–hem, third wheel now–they deserve to ride in style.
the basics
If your pet is literally riding shotgun or comes along for road trips, a car seat cover is the most simple nice-to-have for your wedding registry. A pet carrier is another essential every canine/feline mom or dad should own.
the splurge
Animal babies deserve human baby-level transportation. If you can relate, a pet stroller and booster seat for your little pal are the right registry items for you. These gifts are particularly helpful if your little one is older or has issues walking along side you. They deserve to see the world, too!
the overachiever
Want to stay super organized, even on the road? The Overland Dog Gear 7-Piece Dine Away Bag is your animal baby's sustainable eating on the go. Travel containers help reduce waste and save you some room–and again, spillage–when you're taking a vacay as a family.
the travel tools for your fuzzy fam
There should always be some fun on your wedding registry. Ask your wedding guests for the gift of play. If you're a dog or cat owner, you know you can never have enough toys for them to play with, chew on, and tug at.
the basics
Adding a couple cute basic toys to your online registry gives you some time before you fall for all the cute toys at the pet store checkout line (again). And, again, your guests delight in shopping for these types of items that aren't considered standard on a wedding registry. This Cabra cat scratching post doubles as a bed, if you don't want to splurge for separates.
the splurge
Your feline babes are climbers, so go bigger for them with a cat tree, or condo. Think your pup is a genius? No bias here. Test their smarts, and maybe impress your friends, with a mind toy on the gift registry. It can't hurt for play time to be educational, too.
the overachiever
Treat Jar | Toy Basket | Dog Treat Maker
Treat organization is top tier pet owner status, and treat jars like these glass canisters fit in nicely with the rest of your kitchen organization registry gifts. Another example of a gift that can be used for fur babies or human babies, a great toy basket. Skip the post wedding fights about who will pick up the toys, and make a game of tossing them into the basket together.
play more, say less
Including pet essentials in your wedding registry means one registry for the whole fam. You can purchase pet items yourselves, sure. But your like-minded animal-loving friends and family will be happy to purchase wedding gifts they know you'll use. Prioritizing your real needs and wants will make for practical and you-centered wedding gifts to unwrap and integrate into your new married life.
Looking for more inspo? Check out our other wedding registry guides here:
Special Offer for Bed Bath & Beyond Customers
Save 50% on Loverly's Masterclass video series to help you plan your wedding! Create a registry now to access this exclusive offer.