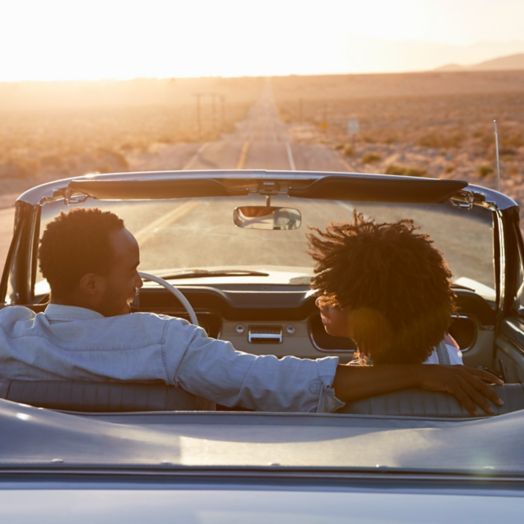 wedding registry must-haves for the adventurers
the top experience gifts for every kind of fun seeker
You are the couple who love adventure. You share a wanderlust or a thirst for cultural immersion. Whether you love to travel or sight see or food tour your way through new places together, this list of wedding registry items has just what you're seeking. A traditional registry may not appeal to you two. You are likely more interested in sharing experiences than asking your friends to shop for fine china or monogrammed bed linens. Those items are perfectly fair and functional, but you want to explore.
If you are booking a honeymoon or a post wedding trip of any kind, know that you can add it to your wedding registry and that your friends and family will delight in contributing to experiential gifts or cash funds to help you get there. This is where you can put your registry money toward fun things to do together, wherever it is you decide to go--including a staycation, if it suits you.
What does your dream honeymoon look like? Is it lounging on a white sand beach? Date nights at Michelin star restaurants in the world's hottest locales? Or signing up for every thrill seeking adventure you can think of? No matter what, each category below has something epic you can add to the wedding registry.
wedding registry rockstars
A round up of the most-loved items from every adventurous couple category.
the must-have experiences for outdoor explorers
You love climbing mountains, trekking rainforests, or splashing in waterfalls. Your dream honeymoon or post wedding adventure calls for seeing the world's beaches, deserts, rapids, or hiking trails. If you're into exploring and really digging into mother earth's offerings, this list of registry worthy experiences is for you.
If flying high sounds romantic to you, a helicopter tour should be on the agenda, or a hot air balloon ride. There's no vista quite like a honeymoon in the sky! Your friends can gift you new skills, like surf lessons in Hawaii, or new thrills, like whitewater rafting in Idaho.
epic ways to see the world together
the must-have experiences for travelers
Besides each other, your passports are your best friends. You'll take tickets to anywhere, as long as it's together. Where will the newlyweds get stamped next? The best part of being travel companions for life is that you can have as many honeymoons as you want. Create a registry with experiences in a country you haven't yet been to or a site you've always wanted to see. Get cash funds toward future trips you'd like to take.
How do caves in Central America sound? What about champagne sailing or Jeep cruising through the Caribbean? Get up close and personal with sharks in Oahu or zipline in Maui. There's a registry experience for so many destinations around the world, and you can get as exotic or as close to home as you choose.
the golden tickets to everywhere
the must-have experiences for foodies
You two want to taste every place on Anthony Bourdain's list. You quest to expand your palettes on your honeymoon and beyond. You'd rather spend time in humble local restaurants and cooking classes than indulge in all-you-can-eat resort spreads. You're counting Michelin stars, not sunsets. This registry category is for you.
Try your married hands at cooking Italian fare, or dive into artisan bread making. You can never go wrong with a tacos and tequila tour on the menu. Are beverages more your thing? Sip your way through a distillery tour in the Boston Harbor. Have you ever thought of combining dessert and waterfalls? Spur Experiences did with their deliciously breathtaking Waterfall Hike and Chocolate Tour. Scrumptious wedding gifts are around the corner. Get inspired, and get those experiences on your registry.
yum to the newlyweds!
the must-have experiences for culture buffs
You want to immerse yourselves in the local traditions and events. You get a kick out of visiting history and art museums and obtaining knowledge about new places. You want to know the arts, the music, the customs of your surroundings. You're a couple of modern culture buffs ready to sink into whatever a town or country or ocean is known for.
When you create your registry, count on this list for adventures up your alley. You can cruise the San Francisco streets on Segways, learning about its historical points of interest. You can learn to blow glass or roll cigars. Take a tour of a rum distillery in Old San Juan or get your jazz fix on a New Orleans Creole Cruise.
committed to Culture
Now that you know what to register for, get equipped with everything you need to take with you on these fantastic experiences. Check The Basics for travel essentials, The Splurge for elevated nice-to-have baggage, and The Overachiever for extra details to explore and experience together in style.
the basics
checked luggage | carry-on luggage
Every Dora duo needs some basic luggage. To cover your bases, add a checked bag and a carryon to the registry list, like these Samsonite hardside suitcases. Perhaps one of you already has a set or one, but it can't hurt to add new items as wedding gifts while you can.
the splurge
Up your travel aficionado status with a full luggage set on the registry, like this one with 3 pieces for any destination on your list.
the overachiever
weekender bag | luggage tags | neck pillow
Show off in customs with customized travel details, like luggage tags. Register for a weekender bag for quick romantic trips and whirlwind adventures. And rest easy, no matter how far the post wedding travel itinerary takes you with your own neck pillows.
carry on, side by side
With the wedding day approaching, and the post wedding adventures soon to come, add experience gifts to your online registry. You're giving your guests the option to give you cash funds to spend on all the fun you crave in newlywed life. Prioritize the adventurous spirit that ties you together and lights you both up inside. You'll be happy to have a registry filled with inspiration for all your future plans.
Looking for more inspo? Check out our other wedding registry guides here:
Special Offer for Bed Bath & Beyond Customers
Save 50% on Loverly's Masterclass video series to help you plan your wedding! Create a registry now to access this exclusive offer.