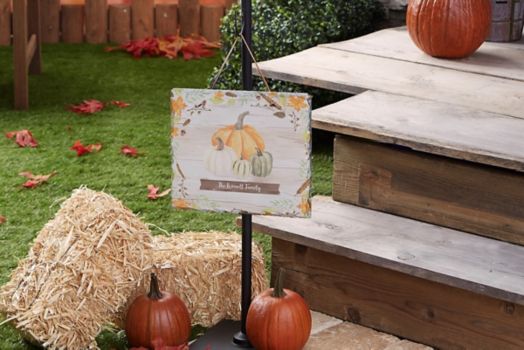 welcoming fall porch décor ideas
7 ideas for welcoming fall décor
Fall is right around the corner, which means now is the time to put away those bright decorations you used during the summer months and start embracing the warm and neutral colors of autumn. The further you get into the season, the more you begin thinking about holiday gatherings and events. You don't want to wake up and realize that it's almost December and you missed an entire season. Check out seven great fall décor ideas that help you create a welcoming front porch that celebrates autumn.
1. make use of seasonal produce
Plan a visit to one of the orchards or farms in your area to pick up some seasonal produce that you can display on your front porch. Old apple buckets are great, but you'll also find new wood crates with vintage designs. If you worry about wasting some of the produce, feel free to use replicas. Finding pumpkins and apples you can reuse year after year is easy. They come in both standard shades of red and orange, as well as bright colors like white and teal.
Outdoor benches hold up well to the rough fall weather and can still look great next spring after a cold winter. As you check out the
fall shop
for outdoor benches, narrow down your options to those that come in warm colors. These benches welcome guests to your home and invite them to take a seat. You can even relax in one as you greet costumed children around Halloween. A rustic metal bench that you decorate with a few pumpkins will also match your theme.
3. display an autumn wreath
Don't forget about your door as you look for front porch décor. That door is one of the first things that visitors see when they stop by and lets them know that you're ready for the season. Fall wreaths come in dozens of designs that you'll love. You might pick one made of twine with small pumpkins and gourds on the front or a wreath that uses realistic maple leaves in orange and brown colors.
Fall wreaths
that use sunflowers and pinecones also add color to your door and help you create a welcoming vibe.
4. welcome visitors with a door mat
Fall door mats let your visitors know that you love autumn. If you live in an area where it rains a lot in the fall, you'll love that guests can wipe their feet before they come inside. Fall door mats also remind your family to take their shoes off before they come through the door. Though most door mats are the same size, you should think about the design you want to share. Go with pumpkins to get in a Halloween mood or one with a fun seasonal phrase.
5. bring the indoors outside
Do you have dinnerware you only use around Thanksgiving and wish you could get more out of those pieces? Fall decorations for a porch include bringing the indoors outside. Take the bowls and use them to display some of your favorite seasonal flowers. It's just as easy to use the matching plates for candles and potpourri. A soup tureen that looks like a pumpkin works great as a holder for Halloween candy once you remove the ladle.
6. celebrate Halloween early or late
You don't need to follow the random rules for Halloween decorating that claim you can only hang them at the beginning of October and need to take them down at the end of the month. Hang a spooky skeleton from your front door, or cover it with an impressive spiderweb that will make people think twice. Lanterns are the perfect size to display along the walkway that leads to your porch as well as the stairs. You can also hang Halloween lights around the porch and use inflatables in your yard.
Whether you need fall porch décor to go along with your seating area or to use in other areas, consider creating a cozy space. You don't need to stay inside all of the time just because the temperature drops.
Fall decor
helps you create a cozy space where your guests will want to sit and talk. Display a few pillows to make the space more comfortable and add a few blankets to stay warm. Don't forget about candles that come in fall scents.
No matter where you live, fall brings some big changes. Even if you aren't lucky enough to get snow, you'll likely see a lot of rain as well as low temperatures. The season also lets you celebrate Halloween and Thanksgiving with your loved ones. With any of these fall décor ideas, you can create a welcoming front porch for all of your visitors.