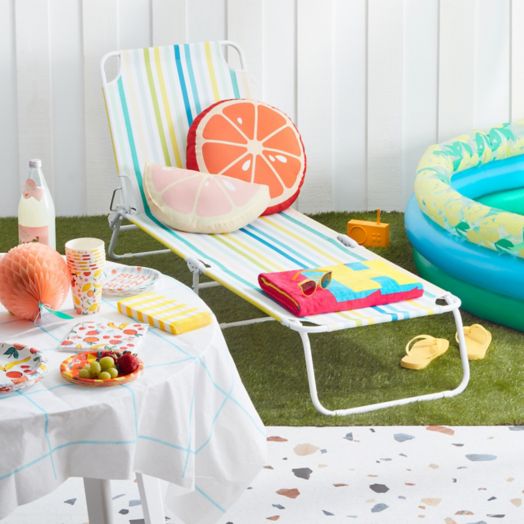 what's better than a party? an outdoor party!
3 ways to make your alfresco summer gatherings easy, affordable, and stylish with H for Happy's new collection of tableware
Living up to its name, H for Happy™ has so many goodies for happy hour, in addition to family get-togethers, dinner parties, and all the outdoor gatherings we love to host during the summer months. The tableware is made for outdoor entertaining with effortless paper goods and decorations, colorful glassware, and shatterproof melamine in the most summery patterns imaginable. Here are just a few ways we love to style them.
With festive patterns, sturdy designs, and easy prices, H for Happy's assortment of paper tablewares make hosting outside a cinch. The plates, cups, napkins, and tablecloths all come in a bright and cheery color palette so all the different styles look great together. Or take the matchy-matchy route with a single motif for a more intentional setting. No matter what, be sure to add a few fruit centerpieces and party banners to your cart for an extra pop of joy.
In a rainbow of hues, H for Happy's drinkware pieces are our favorite merry makers. Everything is designed in durable, outdoor-friendly materials so you'll never have to clean up broken glass, and the fun patterns are basically begging for a party. We love how the margarita glasses are shaped like traditional Mexican glasses, and how the translucent pitchers are large enough for all sorts of iced cocktails and mocktails. Looking for a refreshing drink recipe? Try a grapefruit and thyme salty dog spritz or a fresh lemonade that's equally delicious with rosemary, basil or mint.
3. try outdoor-perfect melamine
So stylish and so smart, melamine dinnerware looks like fine ceramic ¬– but is totally shatterproof! While it's wonderful for everyday use because it's safe in dishwashers (and little hands), we also love setting an alfresco dinner party table with an assortment of melamine. It feels a touch refined yet still fun and unfussy. Isn't that what summer is all about?