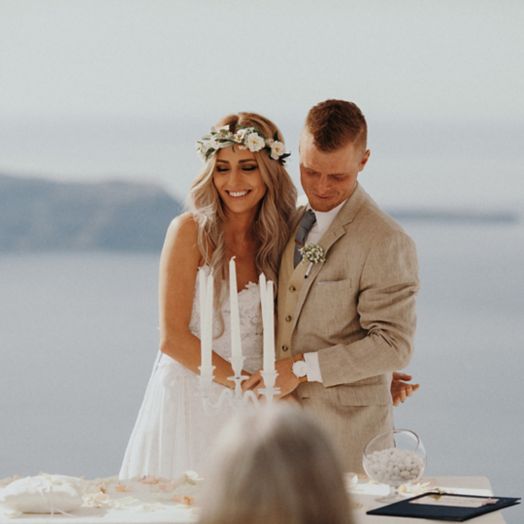 what's your wedding vibe and where is your venue?
choose from the top wedding styles and get real wedding inspiration
Determining your wedding style is one of the most helpful pieces of the wedding planning process. Your wedding vibe will inspire your wedding venue selection and guide everything for your wedding theme, from color palettes to florals to fashion for the big day. Having a wedding theme or style keeps the rest of wedding planning cohesive, always tying back to a main idea that best tells the overall aesthetic of your love story. Not sure where to start? Take Loverly's Wedding Style Quiz to discover personalized recommendations based on your personal style to help inspire your wedding ideas and wedding decor.
In the meantime, here are seven of the most common wedding styles and the wedding venues that will set the right vibe for each.
Perhaps you consider yourselves old souls, or the "something old" speaks to you a little louder than "something new." For your vintage wedding theme, you are going for nostalgic touches, like lace gowns and porcelain dinnerware. Your wedding day fashion has an old timey flair, from the 20s or 40s, or another specific moment in time. You want antique pieces of furniture and decor, Edison bulbs or delicate chandeliers. Your invitations are Art Deco wedding inspired, and your wedding reception transports your guests to another time. Choosing a vintage wedding theme can also help determine your wedding venue and what your overall wedding day will look like. For example, some vintage weddings can also be considered a rustic wedding, which may be hosted in a barn or at a historic estate. But the beauty of it all is that you can determine your wedding theme and the wedding venues that fit your wedding theme ideas!
Vintage wedding venues: Barn, chateau, vineyard, museum, historic estate, garden, old train station/bank
Does this wedding style seem like your vibe? Take a look at the curated Loverly Vintage inspiration boards to help inspire your wedding theme and wedding day vision.
For the modern newlyweds, you are sleek and chic, a contemporary couple with sophisticated style. Hosting a modern wedding tends to highlight minimalism: monochromatic color schemes in open, urban settings with playful, hip touches like mismatched wedding party outfits or neon signs. For your dream wedding think: greenery, like succulents, over bright-colored florals, simple stationery, lots of candles, and champagne towers. You may consider a destination wedding for a modern affair which will also help you choose where your wedding venue will be located. Keep in mind, all of these factors can affect your overall wedding aesthetic and even your dress!
Modern wedding venues: Industrial loft, greenhouse/botanical garden, rooftop, ranch, old train station/bank, warehouse, museum
Does this wedding style seem like your vibe? Browse real modern wedding inspo for more wedding theme ideas.
Your wedding style is classic if you want traditional, elegant trimmings–clean lines and soft colors, white florals and linens, a formal affair. You choose accent colors and use them throughout, from invitations to bridesmaid dresses to boutonnieres and bouquets. You want a black tie attire, fresh flowers, a traditional wedding ceremony, and a sit-down dinner reception, which will all require careful planning. Think: antique cars, long-stemmed roses, and monogrammed accents.
Classic wedding venues: Ballroom, vineyard, hotel, historic mansion/villa, garden, country club, art gallery, barn
Does this wedding style seem like your vibe? Browse real classic wedding inspo for more wedding theme ideas.
Boho weddings are all things playful and effortless–flowy dresses and linens, casual, comfortable vibes, mismatched wedding party fashion. You want to hang dreamcatchers in garden branches or use found wood for centerpieces and decor. You'll have lush florals and whimsical designs for backdrops, like natural arches or macrame tapestries. Often, this style is hosted at an outdoor wedding venue with earthy and neutral tones. Think: beach wedding, lace wedding dress, flower crowns and linen suits, natural color palettes, rattan furniture, and disco balls.
Boho wedding venues: Garden, beach, mountain lodge, industrial loft, greenhouse, lakeside, ranch, desert yurt/tent
Does this wedding style seem like your vibe? Browse real boho wedding inspo for more wedding themes.
You are a fairytale couple, set on an ultra-romantic wedding. Your wedding aesthetic is soft, ethereal, and dreamy, and you want the wedding day to be full of little delights. For a whimsical wedding, you'll have pink roses, hanging floral installations, and pastel table dressings. Your wedding is likely an intimate affair with some DIY efforts, like a flower wall or a Polaroid guestbook. For your dream wedding think: outdoor venue, twinkly string lights, farmhouse tables, and a violinist serenading cocktail hour. Sometimes these types of wedding themes often include a mix and match of florals, bright colors, and a wedding venue with a bold backdrop.
Whimsical & romantic wedding venues: Garden, ballroom, villa/chateau, rooftop, country club, vineyard, conservatory, backyard, botanical garden
Does this wedding style seem like your vibe? Browse real whimsical & romantic wedding inspo for more wedding themes and wedding aesthetic inspiration.
The opposite of classic, you are a class of your own. The non-traditional nearlyweds are quirky and creative. Having an alternative wedding theme can mean you elevate elopement with a high-fashion photoshoot. You exchange vows in the desert with your closest pals. You are the couple who loves a theme, whether it's inspired by a specific holiday or color palette, or it's a full-on masquerade. Think: disco balls, a silent disco wedding reception, statement headpieces, cowboy boots, a purple wedding dress, and anything unexpected.
Non-traditional wedding venues: Museum, art gallery, warehouse, brewery/distillery, mountainside lodge, desert yurt/tent, aquarium, ranch
Does this wedding style seem like your vibe? Browse real non-traditional wedding inspo for more alternative themes.
Bring on the sparkle for your glamorous wedding. Your overall theme is opulence. You intend on shining bright, with bold colors and metallics and extravagant decor. Everything is a luxurious photo moment at your wedding, from the ceremony backdrop to the dance floor and even the wedding venue. Think: floral tunnels, satin wedding dress, orchid bouquets, vintage cars, figurative and literal fireworks.
Glamorous wedding venues: Museum, country club, warehouse, old train station/bank, ballroom, rooftop, conservatory or private estate
Does this wedding style seem like your vibe? Browse real glamorous wedding inspo for more wedding theme inspiration.
---
pro tip:
don't forget to create a Bed Bath & Beyond Wedding Registry to begin preparing for your life as newlyweds.
---
For more wedding theme ideas and help determining which of these wedding styles fits you best, the Loverly I Do Crew Masterclass Course has tools for you. Get expert advice on designing your whole wedding experience in one place.
Special Offer for Bed Bath & Beyond Customers
Save 50% on Loverly's Masterclass video series to help you plan your wedding! Create a registry now to access this exclusive offer.