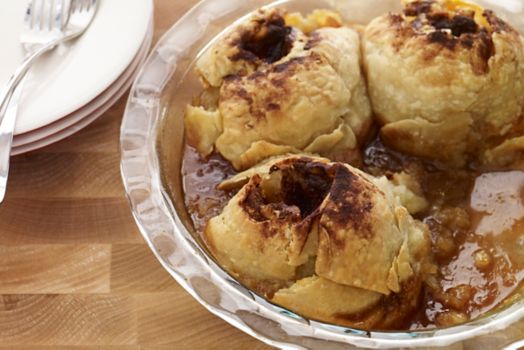 Apple Dumplings with Cinnamon Caramel Sauce Recipe
Yields
4 servings and 2 tbsp of sauce for each apple
4 Granny Smith apples peeled and cored
2 tbsp fresh lemon juice
4 tsp butter
4 tsp light brown sugar
1/2 tsp ground cinnamon
1 package refrigerated pie crust
3/4 cup packed light brown sugar
1/2 cup water
2 tbsp butter
1/2 tsp ground cinnamon
1/4 ground nutmeg
Instructions
1
Sprinkle peeled apples with lemon juice. Unroll the rounds of pie crust on a clean surface and cut it in half.
2
Place 1 apple on each half.
3
In the center of each apple put 1 tsp of butter and 1 tsp of light brown sugar.
5
Leaving an opening in the top and repeat with the remaining apples.
6
Sprinkle the 1/2 tsp cinnamon over the dumpling and place in a pie plate.
7
In a saucepan over medium heat add the light brown sugar, water, butter, cinnamon, and nutmeg and bring to a simmer.
8
Pour into the pie dish that the dumplings are in and place in the oven.
9
Bake for 55-60 minutes at 375° F and serve with the sauce from the dish it was baked in.