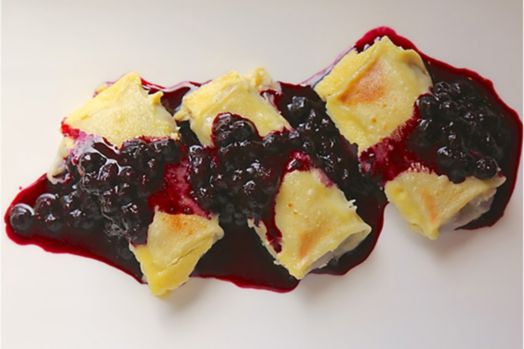 Hanukkah would be nothing for me without this old-school blintz soufflé. Ok, actually most Jewish holidays would be nothing without this. It's comfort food at it's finest – not to mention a snap to make.
1 dozen frozen blintzes, I like to use half cheese and half blueberry
1/4 lb butter
2 cups sour cream
4 eggs, beaten
1 tsp vanilla
3/4 cup of sugar
3 tbsp Grand Marnier
Instructions
1
Preheat oven to 350 degrees F.
2
Melt the butter into the bottom of a large baking dish, top with single layer of blintzes.
3
Combine sour cream, beaten eggs, vanilla, sugar, and Grand Marnier, mix well and pour over blintzes.
4
Bake for approximately 40 minutes or until top starts to brown.