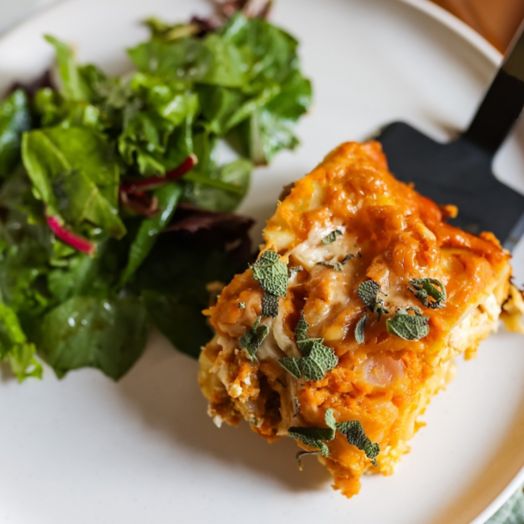 crockpot pumpkin lasagna from @lakeshorelady
1/2 tablespoon olive oil
2-3 raw spicy turkey sausage links
12 lasagna noodles
1 cup shredded mozzarella
pumpkin sauce
1/4 tablespoon olive oil
1 onion, diced
3 cloves garlic, minced
2 (15 oz) cans pumpkin puree
2/3 cup 2% milk (or unsweetened plant-based milk)
1 teaspoon salt
1/2 teaspoon black pepper
cheese mixture
1 (15 oz) container of part skim ricotta cheese
1/3 cup grated parmesan cheese
1 egg
1 teaspoon red pepper flakes
1/2 teaspoon salt
1/4 teaspoon black pepper
1 tablespoon fresh sage, chopped
instructions
1
Add 1/4 tablespoon olive oil to a pan. Add diced onion and minced garlic. Cook for about 5 minutes, until the onion is translucent.
2
Combine pumpkin puree, milk, salt, and pepper to a bowl. Add the cooked onion and garlic to that bowl and stir to combine. Set aside.
3
Add 1/2 tablespoon olive oil to a pan (can be the same one you used for the onion and garlic!). Remove the turkey sausage from the casing and add the meat to the warm oil. Break the meat up as it cooks and remove from the heat once it is completely cooked through and no longer raw.
4
In a separate bowl, combine ricotta, parmesan, red pepper flakes, salt, pepper, and sage. Set aside.
5
Now it's time to start building! Spoon a thin layer of the pumpkin sauce onto the bottom of the crockpot.
6
Lay 3 lasagna noodles on the pumpkin sauce. You will probably need to break 2 of them so they can lay flat and reach closer to the edges of the crockpot. Don't worry, this does not need to be perfect!
7
Spread 1/3 of the ricotta mixture over the noodles, followed by 1/3 of the cooked sausage crumbles and 1/4 of the remaining pumpkin sauce.
8
Layer 3 more lasagna noodles on top of that and repeat that process: ricotta, sausage, pumpkin sauce, lasagna noodles, ricotta, sausage, pumpkin sauce.
9
After that third layer, add one more layer of lasagna noodles and spread the remaining pumpkin sauce over the top.
10
Sprinkle shredded mozzarella cheese on top of that.
11
Cover and cook on high for 3 hours.
12
After 3 hours, cut the lasagna into slices, top with extra chopped sage, and enjoy!