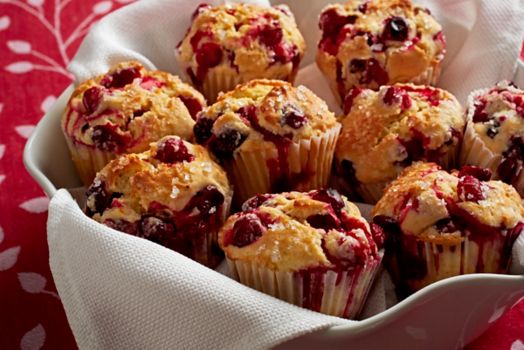 Delicious Cranberry Orange Muffins Recipe
The cranberry and orange flavors really shine in these delicious muffins. Serve them at your next brunch!
2 cups unbleached all-purpose flour
2 tsp baking powder
1/4 tsp salt
1 stick unsalted butter, softened, plus more for preparing the muffin tin
1 tbsp grated orange zest
3/4 cup granulated sugar, plus
1 tbsp for sprinkling on top of muffins
2 large eggs
1/2 cup milk
2 cups fresh or frozen cranberries
Instructions
1
Preheat oven to 375 degrees F.
2
Lightly butter a 12-muffin tin (or line with paper liners).
3
Combine flour, baking powder, and salt in a medium bowl and set aside.
4
In a stand mixer fitted with the paddle attachment cream the butter, orange zest, and sugar until fluffy.
5
Add the eggs, one at a time, mixing well after each addition. Add the dry ingredients in thirds, alternating with the milk until just combined. Stir in the cranberries.
6
Divide the batter evenly into the muffin tin and sprinkle each muffin with sugar.
7
Bake until golden brown, 25 - 30 minutes.
8
Cool muffins in the pan on a rack.
If using dried cranberries, combine 1 cup dried cranberries with 1/4 cup fresh orange juice or water, bring to a simmer, remove from heat and set aside to cool. Strain liquid and fold cranberries into batter as for fresh cranberries above.