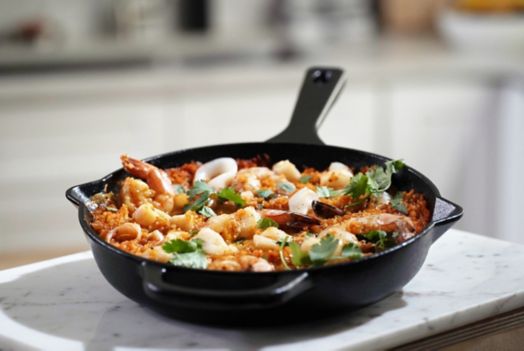 jj-johnsons-cast-iron-paella
Extra virgin olive oil
1 cup Spanish bomba rice
1 teaspoon pimentón
Pinch of saffron
¼ cup crushed tomatoes
3 cups hot, high-quality seafood stock
8 large whole shrimp, peeled, no heads and tails intact, deveined
4 ounces cod, cut into ½-inch cubes
2 ½ ounces fresh scallops, cut into ½-inch cubes
2 ounces fresh squid, cleaned and cut into ¼-inch rings
1 clove garlic, finely chopped
1 bunch cilantro, for garnish
Kosher salt
Freshly ground black pepper
instructions
1
Preheat cast iron pan over medium high heat. Add olive oil, once glistening, add rice and lightly toast. Add pimentón and saffron. Stir until spices begin to warm.
2
Add crushed tomatoes and stock. Season with salt and pepper, stir until combined.
3
Cook about 10 minutes, rice should be cooked halfway through. Add in fish and garlic.
4
Let simmer and fully cook in cast iron pan for an additional 10 minutes.
5
Remove from heat, garnish with cilantro plumes and serve.
Watch our hometown chefs share their recipes on "From Our Table to Yours," our new cooking series on IGTV with host Joel Gamoran. Learn more >
What's on your table? Share your favorites on social and tag with #FromOurTable and #LetsGetCooking.