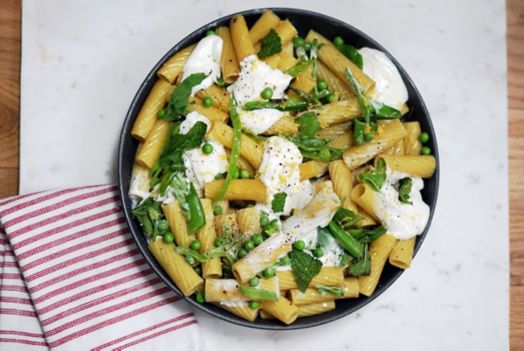 Joe Flamm's rigatoni piselli
8 ounces dried rigatoni pasta
1 tablespoon olive oil, plus more for finishing
2 ounces snow peas, sliced in half
2 ounces sugar snap peas, sliced in half
2 ounces English peas, shucked and blanched
1 ounce mint, torn
1 ounce lemon zest
2 ounces whipped ricotta (drain and whip in food processor)
4 ounces pasta water
directions
1
Boil a large pot of water and season liberally with sea salt. Cook pasta to al dente, about 2 minutes less than what box recommends.
2
Heat large saute pan over medium heat, add olive oil, pasta water, and a few turns of freshly cracked black pepper. Add pasta, cook for 1 minute, then add in all the peas. Cook for one more minute and remove from heat.
3
Plate pasta, top with dollops of whipped ricotta, lemon zest, and torn pieces of fresh mint. Crack fresh black pepper on top and finish with a drizzle of olive oil.
Watch our hometown chefs share their recipes on "From Our Table to Yours," our new cooking series on IGTV with host Joel Gamoran. Learn more >
What's on your table? Share your favorites on social and tag with #FromOurTable and #LetsGetCooking.