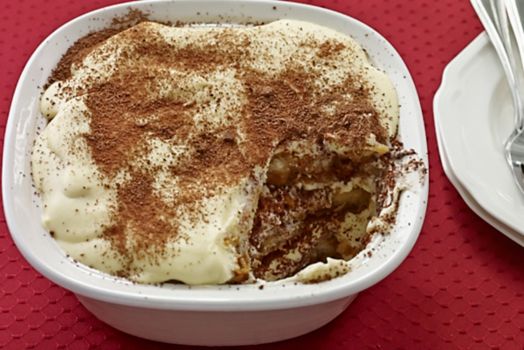 Outrageously Decadent Tiramisu Recipe
This classic Italian dessert literally means 'pick me up' and although it's rich, it does just that with its espresso soaked cookies. It's the perfect make-ahead dessert because it really does need to be made ahead to let the cookies soften and to allow the flavors to blend deliciously.
1 1/2 cups milk
1/2 cup sugar
4 large egg yolks
2 tbsp cornstarch
2 tbsp unsalted butter
2 tbsp rum
2 tsp vanilla extract
8 oz mascarpone cheese, at room temperature
1/2 cup heavy cream
1 1/4 cups cold brewed espresso or strong coffee
2 tbsp coffee liqueur
24 Italian savoiardi cookies (crisp lady fingers)
3 oz bittersweet chocolate, grated
Instructions
Custard:
1
Combine 1 1/4 cups of the milk and the sugar in a medium saucepan and bring just to a simmer over medium-high heat, stirring occasionally to dissolve sugar.
2
Whisk remaining 1/4 cup milk, the egg yolks and cornstarch in medium bowl until smooth. Stir a little of the hot milk mixture into the yolk mixture, then stir in remaining milk mixture.
3
Pour into saucepan and bring to a boil over medium-high heat, whisking frequently. Boil, whisking until thickened, about 1 minute. Remove from heat and stir in butter, rum and vanilla. Pour into a bowl and cover surface with plastic wrap.
5
Whisk mascarpone into chilled custard until blended. Beat heavy cream in a bowl with electric mixer until stiff peaks form; fold into custard.
6
Combine espresso and coffee liqueur in a small bowl. Dip 12 cookies one by one, into espresso mixture and arrange in bottom of an 8x8 or 9x9-inch baking dish. (It's fine to break a few of them into pieces so that they fit in an even layer.)
7
Spoon half of the mascarpone mixture over cookie layer and spread into an even layer. Sprinkle evenly with half of the grated chocolate.
8
Repeat layers using remaining ingredients. Cover and refrigerate at least 8 hours.
9
Cut into 9 squares and place on serving plates. Garnish with a few raspberries if desired.
If you can't find crisp lady fingers you can use more readily available soft lady fingers. Just leave them unwrapped for a day to let them dry out a bit before using.