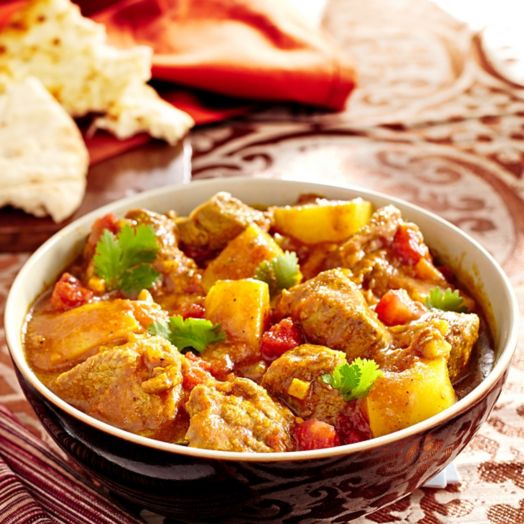 slow cooker lamb vindaloo
This fragrant and slightly spicy Lamb Vindaloo recipe is a classic Indian dish that will fill your kitchen with an exotic fragrance as it gently simmers.
Serving Size
About 1 1/3 cups
2 Tablespoons white or red wine vinegar
2 Tablespoons olive oil
2 Tablespoons minced garlic
1 Jalapeño pepper, minced (with seeds), about 3 Tablespoons
2 Tablespoons finely chopped ginger
2 teaspoons cumin seeds
2 teaspoons ground coriander
1 teaspoon turmeric
1 teaspoon salt
1 1/2 teaspoon Garam Masala
1 3/4 pound lean boneless lamb shoulder cut for stew
1 1/2 pounds Yukon gold potatoes, peeled and cut in large chunks
1 can (14.5 ounces) diced tomatoes in juice, undrained
1/2 cup finely chopped onion
1/2 cup coarsely chopped cilantro
Instructions
1
Combine vinegar, oil, garlic, jalapeño pepper, ginger, cumin seeds, ground coriander, turmeric, salt and garam masala in 4-quart or larger slow cooker. Add lamb and toss to coat with spice mixture. Add potatoes, tomatoes and onion and toss to mix and coat.
2
Cover and cook on LOW 7 to 9 hours or until lamb and potatoes are tender.
3
Stir in cilantro and serve.
Can keep refrigerated up to 3 days, but don't freeze unless you remove the potatoes first.