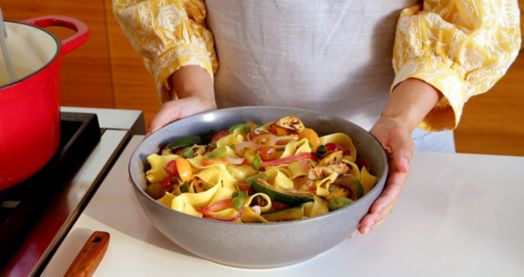 summer squash pasta salad
½ pound pappardelle egg pasta
2 tablespoons olive oil
½ red onion, thinly sliced
1 garlic clove, chopped
3 small or 1 medium squash, sliced ¼-inch thick
12 small tomatoes, halved
½ cup coarsely chopped basil leaves
½ teaspoon salt
¼ teaspoon black pepper
instructions
1
Cook pasta in a large pot of salted boiling water, stirring occasionally, according to package directions or until al dente.
2
Meanwhile, heat a 12-inch skillet over medium-high heat. Add onion and garlic and cook, stirring, until onion is softened, about 2 minutes. Push onions to edge of pan and add another tablespoon olive oil. Add squash and cook, stirring occasionally, until softened, about 3 minutes. Add tomatoes, salt and pepper and cook, stirring, until softened, 2-3 minutes.
3
Drain pasta, reserving 1 cup cooking liquid. Transfer pasta to skillet and stir in basil leaves. If mixture is dry, stir in ¼ cup reserved cooking liquid. Cook, gently stirring, until just heated through. Season with salt and transfer onto plates and serve warm or at room temperature. Add additional cooking liquid as needed.
What's on your table? Share your favorites on social and tag with #FromOurTable and #LetsGetCooking.