Out of Stock Online
Get up to $100 in My Funds Rewards!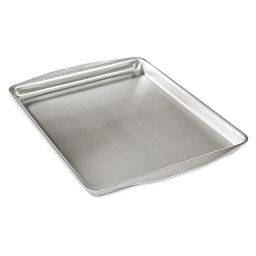 11" X 14" All-Clad - Product Type: Jelly Roll Pan
Founded in 1960, privately held, Pennsylvania?based All?Clad? Metalcrafters is a manufacturer of cookware along with bonded ovenware, kitchen tools and kitchen accessories; the company was started to make bonded metal and coinage but shifted to cookware in 1971 after the founder made a pan for his personal use. Today, All?Clad cookware is still handcrafted in Pennsylvania using American?made steel the same way it was four decades ago. The quality cookware is widely sought after by the world's top chefs and passionate home cooks; the cooking surface is made from nonreactive Type 304 stainless steel. The product line includes hard anodized nonstick cookware, stainless steel roasters, waffle makers, pasta pots, electric slow cookers, electric griddles, copper core cookware, nonstick roasters, stainless steel cookware, Copper Clad? cookware, oven thermometers, oven timers, cookware sets, kitchen utensils, cookware cleaner and polish and more.
Related Searches