Best Seller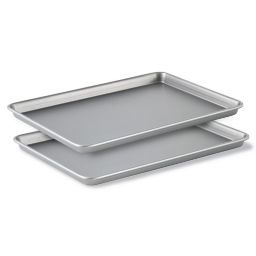 Calphalon
Free Shipping on Orders Over $39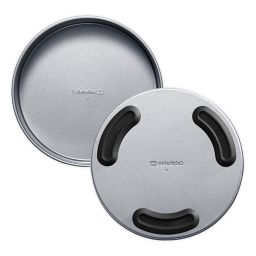 Calphalon
Free Shipping on Orders Over $39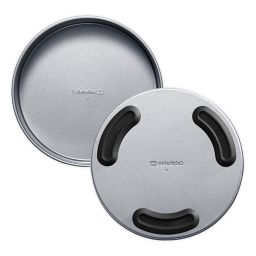 Calphalon - Product Type: Cake Pan - Price: $26 - $50
Best known for its advanced, longer-lasting non-stick performance, Calphalon® has led the cookware industry into the next step of culinary innovation with its supreme hard anodized technology. In 1963, founder Ronald Katsperzak, an entertainment enthusiast, purchased a small aluminum manufacturing firm and expanded its product base to heavy-duty aluminum cookware. Katsperzak aimed to create cookware that was just right for commercial kitchens, high-quality cookware that would respond quickly to changes in heat levels, and simultaneously heat food evenly. With these elements intact, the formerly known Commercial Aluminum Cookware Company swiftly developed into a chief provider of cookware for the foodservice trade. In the late 1960s, the company shifted to the process Calphalon is now best known for hard anodization, a process that converts raw aluminum to a hardened surface that is 80% harder than steel! Calphalon's innovations have grown exponentially over the years to include some of the world's finest non-stick cookware sets, pot, and pan sets, and a host of other cookware commodities and accessories we find to be staple products for the home.
When choosing the right Calphalon cookware sets for your household and lifestyle, it's essential first to recollect what your entertainment needs are. If you have a large family or host most/all special events and holidays at your house, look no further than the
Calphalon Premier Hard-Anodized Nonstick Cookware Collection
. Featuring hard-anodized technology, unique nonstick capabilities, and even-cooking abilities, the Calphalon pieces are manufactured for maximum durability that will last from generation to generation. From the
Calphalon Premier 2-Piece Fry Pan Set
to the
Calphalon Premier Roaster
or the
Calphalon Premier 11 Square Grill Pan
to
Calphalon Premier 8.5-Quart Dutch Oven
, Calphalon cookware has just the variation you need for hosting. Knowing that one size certainly does not fit all, Calphalon also provides multiple piece sets for those who need various types of pots and pans. For the latest in Calphalon technology, check out the
Calphalon Premier Hard-Anodized Nonstick 11-Piece Set
, with all of the items needed to complete your culinary masterpieces. These exceptional innovations feature double-riveted stainless-steel handles for secure handling, 3-layer nonstick interiors tough enough to withstand metal utensil use, and shatter-resistant glass lids to hold heat and moisture so you can monitor the cooking progress. Plus, with convenient online & in-store Bed Bath & Beyond shopping options, you can enjoy a plethora of great offers and values on Calphalon Premier products – one of the best cookware products and top registry items on the currently on the market.
In addition to fulfilling all your pot and pan cookware needs, Calphalon also has a wide variety of nonstick bakeware, cutlery, and storage appliances to compliment your overall culinary collections. Known for an iconic sleek look and unparalleled high performance, Calphalon's advanced collections of knives and nonstick bakeware supersedes the competition with a combination of both durability and multi-functionality. Create your perfectly combined collections of nonstick cookie pans, cupcake pans, baking racks, and pie or cake pans, each exquisitely coated with a Calphalon Premier nonstick surface that makes for effortless food release and easy cleanup. Calphalon has thought of it all; once you've created or purchased the perfect set, look at the storage options Calphalon has to offer. From oval ceiling racks to hang your eclectic collection for all to see to wall bar pot racks, each just as durable as the set itself. No matter which cookware element your searching for, Calphalon Premier has the long-lasting, innovative products you're sure to cherish.
Related Searches