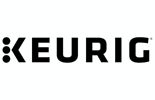 Keurig - Price: $51 - $100
Start each day with the perfect cup with the help of a Keurig brewing system. One of the most efficient and elegant products on the market, Keurig delivers coffee, tea, hot chocolate and more with the press of a button. No more daily trips to the coffee shop for specialty drinks – Keurig does the work for you in the comfort of your own kitchen and on your schedule. With products like the K-Café and K-Elite, you can be your own home barista (we suggest putting out a tip cup!). Providing a customizable brew and a perfect portion every time, Keurig and
K-Cup® pods
make it effortless to offer your guests the best in quality coffee and beverages – from an ultra-stylish machine you won't mind keeping out on the counter. We also offer a great selection of
Keurig accessories
!
The K-Café model is the latest innovation from Keurig®, and it's ready to take your coffee game to the next level. An all-in-one coffeehouse machine, the K-Café delivers
single-serving coffees
, cappuccinos, and lattes – all at home, and all with the press of a button. And, each machine includes a dishwasher-safe frother that lets you finish off your beverage with steamed milk (and it works with soy and almond). Every K-Café machine uses traditional Keurig® K-Cup® pods for convenience and easy cleanup. They're also compatible with My K-Cup® reusable filters, so you're free to use your own ground coffee. With the Strong Brew feature, you can choose the boldness and strength of your drink. Four different cup sizes give you freedom of choice – maybe a travel mug-sized cup for your commute and a small six-ounce cup after dinner. It's up to you! Other great features include auto-off and a maintenance reminder. And, the special edition K-Café comes in a gorgeous nickel finish that looks stylish and at home in any kitchen.
Choosing the perfect Keurig
With so many Keurig® models out there, how do you choose? Find the features important to you to narrow down your selections. Consider the following. Footprint – how much counter space do you have? Keurig® machines come in a variety of sizes to fit any space. Water – do you want a Keurig® model with a large reservoir or one that fills by the cup? Single-cup Keurig® machines are typically smaller, but have fewer features. User friendliness – are you a set-it-and-go type of person or do you like customizing each and every cup? Some machines are simple to use and brew great coffee every time, and some offer even more fine-tuned control for individual tastes. Cleaning – if you don't want to worry about hand-cleaning your Keurig® machine, look for models with automated descaling options. Finally, are you looking for a basic, but high-quality coffee machine or a more complex one that makes lattes, cappuccinos, and more? Check out the K-Café line for some great multi-purpose machines. And don't forget your K-Cup® pods!
Related Searches