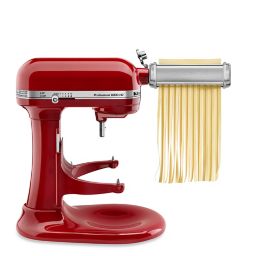 KitchenAid
Excluded from coupons
Sale!
Wedding Registry Favorite
Free Shipping on Orders Over $39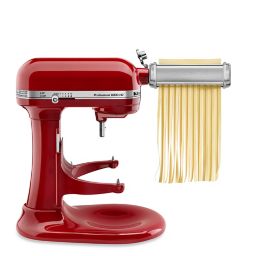 KitchenAid
With a century of experience in helping home cooks and professional chefs, you can count on KitchenAid. Founded in 1919, the company began with the invention of the stand mixer. Recognized as an icon of American design, the popular mixer is a staple in home and commercial kitchens worldwide. KitchenAid products offer reliable assistance in all aspects of food preparation; the selection includes hand and
stand mixers
,
hand blenders
, countertop and small kitchen appliances such as toasters, slow cookers, coffee makers and food processors, food prep and cooking utensils, mixing bowls, food spiralizers, dish racks and more. Design, quality and reliability are hallmarks of the brand and many products continue to be manufactured in America. A
wedding registry
favorite, KitchenAid products are treasured by generations of home cooks and relied on by professional chefs.
Explore your culinary creativity with KitchenAid. You know the brand for its iconic stand mixers – that same focus on quality, design and reliability is evident in each precision-engineered product that bears the KitchenAid name. A favorite of home cooks, the brand encompasses major appliances including ranges, wall ovens, refrigerators and microwave ovens, kitchenware and countertop appliances. No matter what you're making, you can count on KitchenAid.
KitchenAid Stand Mixers
More than a mixer, KitchenAid stand mixers are the culinary center of commercial and home kitchens nationwide. Whether you are cooking for one, your family, friends, church group or large gatherings, a KitchenAid stand mixer performs as advertised, allowing you to make everything from fresh pasta, sausage and veggie noodles to baby food and burgers along with baked goods and even ice cream. So much more than a mixer, this essential kitchen appliance helps you create delicious dishes and nutritious family recipes, making it easy to get inventive in the kitchen. When choosing a stand mixer, consider available countertop and storage space along with how much you plan on cooking; a mini tilt head mixer offers powerful performance ideal for many while large families may opt for a heavy-duty hero such as a bowl lift stand mixer to churn out massive meals and marvelous menus. Factor in how you plan to use your mixer – just for baking, or for a variety of tasks such as making burgers, pasta or ice cream. Storage space, the amount of food you intend to prepare, frequency and scope of use will help to determine which stand mixer is best for your family along with essential attachments. All about style – choose from a gorgeous color palette designed to enhance any kitchen.