Bathroom Mirrors & Lighting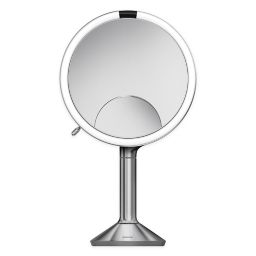 simplehuman
Wedding Registry Favorite
Free Shipping on Orders Over $39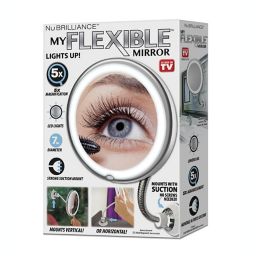 As Seen on TV
NON-MEMBER PRICE
BEYOND+ MEMBER PRICE
$15.99
Free Shipping on Orders Over $39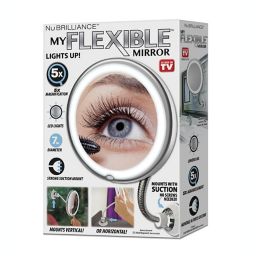 Bathroom Mirrors & Lighting - Product Type: Table/Desk Mirror
Bed Bath & Beyond knows that regardless of the size of your bathroom, a mirror should be the centerpiece that reflects elegance and style. Replacing your mirrors can instantly update the look of your bathroom. By carefully choosing mirrors from Bed Bath & Beyond, you can even make the space look larger. Generally, the mirrors above a vanity should be the same width as the vanity or a little narrower if you cannot find a mirror that is the same width as your vanity. If your vanity is wide, installing two mirrors is another creative option, or you could choose the functionality of two medicine cabinets. Our backlit mirrors with cooling or warming LED illumination options provide lighting from behind for a modern effect. If your bathroom doesn't have a lot of color, our bathroom wall mirrors come in a variety of frame options that transform the mirror into art. The bonus is that if your bathroom is large, the frameless mirror will allow you to see how wide and large your bathroom is.
Transform your bathroom to resemble a theater dressing room with Bed Bath & Beyond's selection of Hollywood style mirrors and channel your inner movie star. And for all the grooming that needs a closer look, why not install a wall mount magnifying mirror? Or you could choose from our large array of portable makeup mirrors with LED lights. As important as it is to choose bathroom mirrors for aesthetics, lighting needs to be carefully considered. Vanity lighting that is used for grooming must be bright enough to be functional without causing a glare. Our vanity mirrors with adjustable brightness and hue can come in very handy for this purpose. Medicine cabinets are very utilitarian in concealing items you use every day, but they don't have to be drab. Our stylish medicine cabinets are useful for stashing your prescription or over the counter drugs, as well as for storing toiletries and other bathroom accessories.
Mirrored Medicine Cabinets Serve a Dual Purpose
Bathroom mirrors can be used as art, and you need to consider various factors when choosing the bathroom mirror that's right for you. Ask yourself whether you want to make a dramatic statement, or you need to add storage. If your choice is the latter, Bed Bath & Beyond's medicine cabinets will add beauty and function. If your bathroom is already full of color, you may want to subdue the space with a frameless or simpler style. If your space lacks color, a more ornate style will add some spark. The size of the mirror you choose depends on the size of the space. The top of the mirror should typically be a few inches higher than the tallest person in the home and should not extend beyond the vanity or sink below it. If you have a double sink, you don't need to install two medicine cabinets. You could install one and add one of our beautiful bathroom mirrors to complement the rest of your bathroom's décor.