NON-MEMBER PRICE
BEYOND+ MEMBER PRICE
$23.99 - $31.99
Special Size Available
Get up to $100 in Rewards!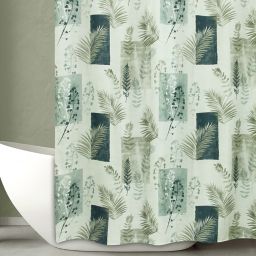 Bacova Shower Curtains
Bathrooms have grown in importance from the late nineties to become an essential space in the home. Bedrooms and living rooms usually get a quick, seasonal pick-me-up, but it also time to show your bathroom some love. The easiest way to give your bathroom a quick facelift is by decking it out with a gorgeous new shower curtain. Why not make your own design statement with a beautiful shower curtain from Bed Bath & Beyond? Before choosing a shower curtain ask yourself what look you are going for. If you are looking to make your shower curtain the focal point of your bathroom you will love the current trends in bold botanicals and florals and colorful abstract designs from
Lush Décor
. Lush Décor also offers beautiful, unique looks with ruching, ruffles, hand-stitched embellishments for an upscale shabby chic look. If you want your shower curtain to be a subtle complement to the other bolder elements in your bathroom, check out
Wamsutta®'s
soft neutral tones in a variety of minimalist styles including vintage and some cloth shower curtains in luxurious cotton sateen, enhancing any bathroom decor with a fresh modern look.
Many people ask if shower curtains should go outside or inside the tub. The simplest answer is that if your shower curtain has a liner, the liner goes inside, and the shower curtain goes outside. If there is no liner, the curtain goes inside so that it keeps the water from dripping outside and making a mess. It's important to note that if you have not had a shower curtain before and are installing a shower curtain rod and shower curtain, you'll need to measure the full width of the space the shower curtain will cover. Measure the height up to 3" less than where you want your rod to be placed (typically rods are installed between 75-77" off the floor). We offer shower curtains in various sizes. Check out our vast range of
shower curtain rods and hooks
. We carry trendy shower curtain designs in geometric shapes and bold colors to update any bathroom with a modern touch. Give your bathroom an affordable and trendy makeover with a bath bundle set paired with a bath rug, contour rug and curtain rings, offering you everything you need to change the look of your bathroom.
Beautiful Fabric Shower Curtains
If you are wondering whether fabric shower curtains are better – it is a personal preference. The pros about cloth shower curtains are that they are more attractive as they tend to have beautiful embellishments and are washable shower curtains. We carry innovative hookless fabric shower curtains featuring a built-in fabric liner. These hookless shower curtains offer no hassles thanks to their split ring hookless design that lets you hang them in less than 10 seconds. The fabric liner hangs more naturally and feels softer when it touches your body in the shower. The fabric liner is easy to wash and you can toss it in with towels to prevent the liner from getting crinkly. We also have beautiful designs in vinyl, polyethylene bath curtains. Many people prefer soft non-chlorinated PEVA or polyethylene vinyl acetate over PVC or polyvinyl chloride. Your bathroom is a relaxing oasis where the shower plays a pivotal role. You can have your own spa-like experience with a massaging
shower head
. You may also want to add a bathtub mat with an anti-skid surface that provides a safe and secure surface. Our bathtub mats have a variety of styles including foam cushioning to pamper your feet with every step.