SELECT STORES ARE NOW OPEN! Our Store Safety Plan is designed to keep associates and customers safe.  Learn More
Down & Down Alternative Comforter
TWIN $379.99 - KING $479.99
Wedding Registry Favorite
Free Shipping on Orders Over $39
TWIN $329.99 - KING $439.99
Free Shipping on Orders Over $39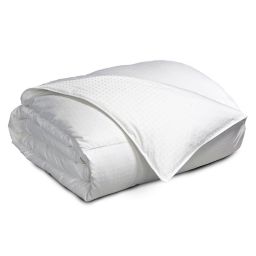 Down & Down Alternative Comforter
If you've always imagined being enveloped in a soft, fluffy bed as you drift off to sleep, that luxurious experience can become a reality with a down comforter from Bed Bath & Beyond. Filled with either fluffy geese feathers or duck feathers, down comforters provide insulation during cold nights and breathability during hot nights for superior comfort, so you can get a great night's sleep. Plus, because these feathers are unstructured, they trap in more air to provide a warmer temperature, making down comforters the perfect
sleep solution for cold sleepers
. Not to mention, most of our down comforters feature a baffle box construction which allows the down fill to loft to its fullest while keeping the filling from shifting throughout the night to prevent cold spots. Offering an array of styles and colors to choose from, Bed Bath & Beyond's stunning selection of down comforters not only provides you year-round warmth but also dresses your bed to impress. And if you're finding it difficult to choose the perfect one, don't worry. We'll break down all the down comforter basics for you, so you can stay warm and cozy when you're sleeping.
There are various types of comforters to choose from when adding to your bedding. When selecting your perfect down comforter, you should start by considering the down comforter's fill power which equates to the warmth level they provide you as you slumber. We have the perfect breathable duvet or comforter for hot sleepers or super warm bedding for cold sleepers, you just need to decide what kind of sleeper you are. Bed Bath & Beyond's down comforters are generally over 500 fill power to provide optimal comfort in warm temperatures, while the down insulation also provides optimal warmth in colder weather. Typically, the higher the fill power, the denser the fill is, and the fluffier the down comforter feels. Plus, if someone in your household is prone to allergies, the hypoallergenic capabilities of down comforters help to prevent allergens from infiltrating your bed. Another great option to a lavish night's sleep is a down alternative comforter from Bed Bath & Beyond. Down alternative comforters are filled with synthetic fibers designed to mimic lofty down clusters. Most synthetics used in down alternative comforters are also completely hypoallergenic if they are kept clean. Not to mention, with proper care, down comforters and down alternative bed comforters can last for decades.
Dress Up Your Down Comforter
If you want to further protect your down comforter or down alternative comforter, consider slipping it into a duvet cover from Bed Bath & Beyond. By using different
duvet cover
you can easily transform the look of your comforters as well. While a slightly smaller duvet cover will make your down comforter fluff up more, a duvet cover that's larger than the down comforter will give a more draped look without the expense of a larger comforter. Bed Bath & Beyond's duvet covers are also offered in a variety of sets, materials, prints, colors and even reversible options to transform your bedroom at any time. While many bed comforters and duvet covers can be laundered in a washer and dryer, some may require dry cleaning. By diligently following the care instructions each time you wash your duvet or comforter, your
bedding
can last you a very long time so that you're always guaranteed a great night's sleep.