ALL STORES ARE TEMPORARILY CLOSED. Please check here for our latest health & safety updates.  Learn More
FULL $49.99 - CAL KING $59.99
More Options Available
Wedding Registry Favorite
Free Shipping on Orders Over $39
FULL $64.99 - CAL KING $74.99
More Options Available
Free Shipping on Orders Over $39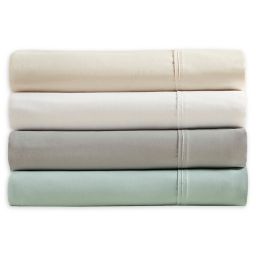 Beautyrest Cotton Sheets & Pillowcases
Your bed is the most important feature in your bedroom, making bedding a top priority. Although most people consider the comforter, duvet cover, or quilt the star of your bed, we'll let you in on a little secret…it's really what's underneath that matters the most for an amazing sleep experience. Transform your bed into a place of extreme serenity as soon as you get into it with sumptuous sheet sets from Bed Bath and Beyond. With a great variety of colors and patterns to choose from in an assortment of sizes, fabrics, thread counts, and finishes, Bed Bath and Beyond is undoubtedly home to the cozy sheet set of your dreams, all you have to do is determine which one it is. Don't worry, we'll walk you through it. While you're perusing our vast selection of durable sheet sets, there are a few key points we suggest you keep in mind while you're looking: like the size of your mattress, what type of sleeper you are, your ideal sheet feel, and of course, the way you want your sheets to look. Read on to learn more about how to choose the perfect sheet set for your bed, and more importantly, a good night's sleep.
Choosing your ideal sheet set shouldn't be anything to lose sleep over, especially when Bed Bath & Beyond is here to help. Although when shopping, it's easy to get distracted by color and pattern, it's important to start with the basics, like what size mattress do you have and what size sheet set do you need? Offering standard sizes from twin to California king, and even some specialty sizes like twin XL sheets (for dorm room beds) and dual sheet sets, you can easily narrow down your search to the exact size you need to choose from. Next, it's time to think about what kind of sleeper you are to determine what type of material your sheet set should be. And, keep in mind, your duvet is not the only controlling factor to your body temperature while you sleep. For example, if you are generally hot while you sleep, breathable cotton sheets will be your go-to material for your perfect sheet set. For sleepers who are generally cold at night, super soft flannel sheets will are cozy and provide the warmth you need (especially in the colder months). Not to mention, some of our sheet sets have cooling, moisture-wicking, temperature regulating, or warming properties to help further promote a comfortable night's sleep, no matter the material. Often, it's not a question of just the material as much as it is about the thread count of the sheet set. To put it simply, the thread count is the number of threads per square inch of the fabric, both vertical and horizontal. Usually, the higher the thread count, the softer the sheet, but other factors like the type of fiber, the size of yarn, and the finish all contribute to the quality and texture of the bed sheet as well.
What's Your Ideal Sheet Feel?
There are definitely no cut and dry rules for choosing your perfect sheet set, but we here at Bed Bath & Beyond have some tips and tricks to offer in terms of selecting sheets and pillowcases that feel good to you. For instance, if you're someone who enjoys the feeling of softness and silkiness in a sheet, a sateen-weave is what you're looking for. If you're someone who enjoys a more cool, crisp feeling sheet, a percale-weave will be the one for you. If you're someone who enjoys your sheets feeling like your favorite soft T-shirt, a sheet that uses a softer, Jersey manufacturing technique is the way to go. No matter which feeling or texture you prefer for your sheets, Bed Bath & Beyond's array of different weaves and manufacturing techniques are here to help you decipher which sheet set will have you feeling the coziest while you're sleeping. Not to mention, you can always reference our helpful sheets buying guide for any additional questions about bedding you may have to ensure a great night's sleep. Sweet dreams!